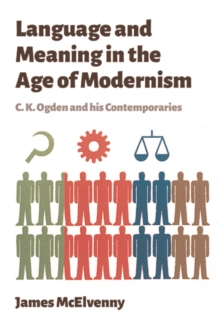 Language and Meaning in the Age of Modernism : C.K. Ogden and His Contemporaries
Hardback
Description
Explores the origins of key concepts in semantics and semioticsThis book explores the influential currents in the philosophy of language and linguistics of the first half of the twentieth century, from the perspective of the English scholar C.
K. Ogden (1889 1957). Ogden was connected to several of the most significant figures of the modernist period, including Bertrand Russell, Ludwig Wittgenstein, Victoria Lady Welby, Otto Neurath and Rudolf Carnap.
In investigating these connections, this book reveals links between early analytic philosophy, semiotics and linguistics in a crucial period of their respective histories and in turn sheds light on the intellectual history of the early twentieth century.Readers are introduced to the important interaction between Ogden's thought and Victoria Lady Welby's 'significs', Bertrand Russell and Ludwig Wittgenstein's 'logical atomism' in its various forms, and the philosophy and political activism of Otto Neurath and Rudolf Carnap of the Vienna Circle.
McElvenny also examines the background to the ideas espoused in Ogden's book 'The Meaning of Meaning', co-authored with I.
A. Richards, along with the application of these ideas in Ogden's international language project 'Basic English'.Provides a detailed study of the historical origin of key concepts in semantics and semiotics Reveals links between early analytic philosophy, semiotics and linguistics in a crucial period of their respective histories Makes extensive use of previously unexplored sources, including Ogden's articles in the journal 'Psyche' and unpublished correspondenceIncludes a detailed examination of 'The Meaning of Meaning', 1923 and 'Basic English', 1930
Information
Format: Hardback
Pages: 200 pages, 4 B/W illustrations 1 colour illustrations 4 B/W halftones
Publisher: Edinburgh University Press
Publication Date: 28/02/2017
Category: Philosophy of language
ISBN: 9781474425032
Free Home Delivery
on all orders
Pick up orders
from local bookshops