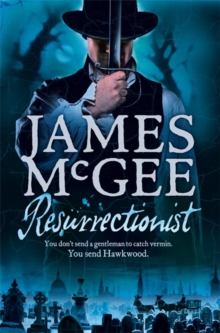 Resurrectionist
Paperback
Description
Hawkwood, the Regency James Bond, returns in this gripping, action packed sequel to the bestselling `Ratcatcher'.Matthew Hawkwood.
Soldier, spy, lover - a man as dangerous as the criminals he hunts.The tough Bow Street Runner is back where he's not wanted, in the most forbidding places London has to offer: its graveyards and the rank, sinister halls of Bedlam, the country's most notorious lunatic asylum.There are missing bodies all around - dead and alive. 'Resurrection men' serve the demands of the city's surgeons by stealing corpses - and creating a few of their own along the way.Far more worrying is the escape from Bedlam of a very unusual inmate: one Colonel Titus Xavier Hyde, an obsessive, gifted surgeon whose insanity is only matched by his dark intelligence. And this twisted genius has a point to prove. Which will mean plenty more work for the gravediggers...
Information
Format: Paperback
Pages: 400 pages
Publisher: HarperCollins Publishers
Publication Date: 03/09/2007
Category: Historical mysteries
ISBN: 9780007212712
Other Formats
EPUB from £3.49
Paperback from £9.99
Free Home Delivery
on all orders
Pick up orders
from local bookshops
Reviews
Showing 1 - 2 of 2 reviews.
Review by richardgarside
16/06/2015
Potential to be good tale, but totally spoiled by over the top violence, horror and blatant sexual abuse. Sensationalism for its own sake adds nothing to the story. I am too old to be shocked, but really do not need this.
Review by adpaton
27/08/2015
I expected to enjoy this book far more than I did but that was because I had the wrong writer. This is the first McGee I have read and from an historical point of view it was very interesting indeed, with descriptions of Bedlam, the London slums and sewers and the state of medicine in the early Nineteenth Century. Hawkwood, an ex army man, is a formidable character and called to investigate a murder in the notorious London Asylum: from there he is summoned to a church yard where a corpse is gruesomely displayed. Nothing seems to link the two at first but of course, fiction being less random than real life, its all part of the same plot, planned by an evil genius and executed by his no less evil henchmen, and women. Body snatching, amazingly, was not a crime initially, as long as the corpse was stripped of all clothes - even the shroud - or jewellery, since taking those was 'theft'. Bodies were usually taken for medical schools, and good teeth were prized by dentists for dentures. But there's a new buyer in London who is not satisfied with even the most freshly disinterred corpse: for his purposes, he needs them alive. Matthew Hawkwood soon realises his adversary is a [supposedly] dead man, and one who has some very powerful allies at that. In the end - SPOILER ALERT - the mad scheme to revive his long dead daughter using the fresh blood and organs of other girls is foiled and, despite making some enemies, Hawkwood emerges victorious. Not an easy or enjoyable read but a very interesting one.