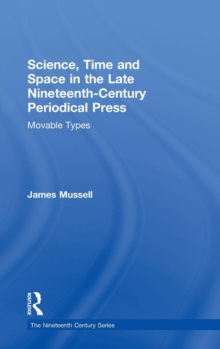 Science, Time and Space in the Late Nineteenth-Century Periodical Press : Movable Types
Hardback
Description
James Mussell reads nineteenth-century scientific debates in light of recent theoretical discussions of scientific writing to propose a new methodology for understanding the periodical press in terms of its movements in time and space.
That there is no disjunction between text and object is already recognized in science studies, Mussell argues; however, this principle should also be extended to our understanding of print culture within its cultural context.
He provides historical accounts of scientific controversy, documents references to time and space in the periodical press, and follows magazines and journals as they circulate through society to shed new light on the dissemination and distribution of periodicals, authorship and textual authority, and the role of mediation in material culture.
Well-known writers like H. G. Wells and Arthur Conan Doyle are discovered in new contexts, while other authors, publishers, editors, and scientists are discussed for the first time.
Mussell is persuasive in showing how his methodology increases our understanding of the process of transformation and translation that underpins the production of print and informs current debates about the status of digital publication and the preservation of archival material in electronic forms.
Adding to the book's usefulness are an extended bibliography and a discussion of recent debates regarding digital publication.
Other Formats
Paperback / softback from £33.99
EPUB from £33.30
PDF from £33.30
Also in the The Nineteenth Century Series series | View all