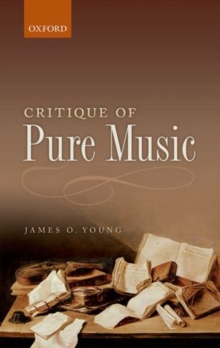 Critique of Pure Music
Hardback
Description
Why do we value music? Many people report that listening to music is one of life's most rewarding activities.
In Critique of Pure Music, James O. Young seeks to explain why this is so. Formalists tell us that music is appreciated as pure, contentless form.
On this view, listeners receive pleasure, or a pleasurable 'musical' emotion, when they explore the abstract patterns found in music.
Music, formalists believe, does not arouse ordinary emotions such asjoy, melancholy or fear, nor can it represent emotion or provide psychological insight.
Young holds that formalists are wrong on all counts.
Drawing upon the latest psychological research, he argues that music is expressive of emotion by resembling human expressive behaviour.
By resembling human expressivebehaviour, music is able to arouse ordinary emotions in listeners.
This, in turn, makes possible the representation of emotion by music.
The representation of emotion in music gives music the capacity to provide psychological insight-into the emotional lives of composers, and the emotional lives of individuals from a variety of times and places. And it is this capacity of music to provide psychological insight which explains a good deal of the value of music, both vocal and purely instrumental. Without it, music could not be experienced as profound.
Philosophers, psychologists, musicians, musicologists, and music lovers will all find something of interest in this book.
Information
Format: Hardback
Pages: 216 pages
Publisher: Oxford University Press
Publication Date: 02/01/2014
Category: Theory of music & musicology
ISBN: 9780199682713
Free Home Delivery
on all orders
Pick up orders
from local bookshops