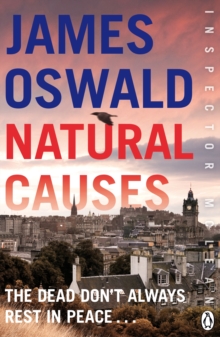 Description
Natural Causes is the first novel in the Detective Inspector McLean series, from Sunday Times best-selling author James Oswald. A young girl's mutilated body is discovered in a sealed room.
Her remains are carefully arranged, in what seems to have been a cruel and macabre ritual, which appears to have taken place over 60 years ago. For newly appointed Edinburgh Detective Inspector Tony McLean this baffling cold case ought to be a low priority - but he is haunted by the young victim and her grisly death.
Meanwhile, the city is horrified by a series of bloody killings.
Deaths for which there appears to be neither rhyme nor reason, and which leave Edinburgh's police at a loss. McLean is convinced that these deaths are somehow connected to the terrible ceremonial killing of the girl, all those years ago.
It is an irrational, almost supernatural theory. And one which will lead McLean closer to the heart of a terrifying and ancient evil ...Natural Causes is the opening to an electrifying series, for fans of Ian Rankin, Peter James and Stuart McBride. Praise for James Oswald: 'A star of Scotland's burgeoning crime fiction scene' Daily Record 'Crime fiction's next big thing' The Sunday Telegraph 'Literary sensation...James' overnight success has drawn comparisons with the meteoric rise of EL James and her Fifty Shades of Grey series' Daily Mail 'Fifty Shades of Hay' The Times 'Oswald is among the leaders in the new batch of excellent Scottish crime writers' Daily Mail 'The new Ian Rankin' Daily Record 'The hallmarks of Val McDermid or Ian Rankin: it's dark, violent, noirish' The Herald 'A good read' The Times 'An excellent start to what promises to be a fine series' Guardian
Information
Format: Paperback
Pages: 464 pages
Publisher: Penguin Books Ltd
Publication Date: 09/05/2013
ISBN: 9781405913140
Other Formats
EPUB from £3.99
eAudiobook MP3 from £8.80
Free Home Delivery
on all orders
Pick up orders
from local bookshops
Reviews
Showing 1 - 4 of 4 reviews.
Review by Elainedav
16/06/2015
I thought this was a great first book in a series to come (number 2 already published and number 3 on the way). The character of DI McLean is developed well and you are introduced to a host of others, Grumpy Bob, DCI Duguid, DC MacBride and the pathologist Angus Cadwallader, to name just a few.There were a lot of dead bodies popping up in this book. But that helped both to develop the back story of DI McLean as well as the main plot line along with the supernatural element of the book. I'm looking forward to reading the second in the series. I assume the personal Tony McLean story will continue, not least to develop how he manages his inheritance and presumably continues his police career. But also to see how the author continues the supernatural theme in a new storyline. I hope the series continues to be as good as the first!
Review by jtck121166
16/06/2015
From gruesome prelude to hair-raising conclusion this novel was a terrific read. DI Anthony McLean is a thoroughly likeable hero, his life at the smarter end of Edinburgh a welcome respite from the seediness of other cops' in that city. Secondary characters and plot also compel - the whole marred only by an unwelcome element of supernatural silliness now and again.
Review by Corazie
16/06/2015
You can't talk about this book in any way without first mentioning the opening chapter. My toes curled, my hands were in fists, and my throat hurt. I had to suppress the urge to throw up. The first chapter of this book is powerful - the imagery is horrifying and stops just short of being too much. It is terrifying that it could even be conceivable, grotesque that it could possibly happen. But it works. This chapter serves its purpose and serves it well. If you ever forget it then you're lucky - and you will not forget it before you finish the book.<br/><br/>All I wanted to know for much of this book was who that poor young woman was, the girl who suffered such a fate and who did it. That you are reminded of this first, terrible act throughout the book only makes the reader more keen to finish this riveting read and solve the mystery with McLean.<br/><br/>The tone is not all horrifying gore. The characters bring a well needed injection of humour and mystery and a sense of realness. The reader is slowly fed information about McLean, his past does not overshadow the story at all.<br/><br/>This is a well rounded crime novel, with just enough of everything to make it perfect. James Oswald surely knew that to write about a Detective Inspector in Edinburgh would invite comparisons to Ian Rankin's Rebus and seemingly makes a nod to this near the very end, with a Police Constable reading one of Rankin's books.<br/><br/>I wasn't sure about the slight fantasy element, but it worked well with the story and resolved itself by the end. I've never read such a real crime story so well-woven with a hint of fantasy, and I thoroughly enjoyed it.<br/><br/>I won a copy of this book via Goodreads First Reads.
Review by Eyejaybee
16/06/2015
At times I struggled with this novel which seemed rather disjointed, though the plot was sufficiently compelling for me to persevere through to the end (which is quite a tribute in itself these days as I have become increasingly ruthless about ditching books recently). I found it rather chaotic, and it seemed too heavily reliant upon detective story cliches with Inspector McLean (the principal character) enduring a difficult relationship with his immediate but incompetent superior (Chief Inspector Duguid, known to one and all as "Dagwood"). McLean is, almost predictably, rather a maverick. In this particular instance his difference from the pack derives from the relative affluence of his upbringing - orphaned at four he was raised by his indomitable and wealthy grandmother.The plot is definitely incoherent and fanciful. The novel opens with the discovery of the murder of a wealthy Edinburgh luminary who had contacts at the highest level of society and officialdom. Almost immediately afterwards builders converting an old property in Edinburgh uncover a corpse in a hidden room, with six of its body parts concealed in recesses in the wall, along with inscriptions. Closer analysis shows that the murder probably took place about sixty years ago. Then there is another murder in the ranks of Edinburgh's higher society, and McLean, who has been "relegated" to investigating the old case, spots links between the historic murder and the current series of killings.McLean's grandmother has been comatose for almost eighteen months following a severe stroke, and suddenly dies. This brings McLean into contact with Jonas Carstairs, her solicitor, who is, himself, promptly murdered in a style reminiscent of the earlier two killings.I found the basic plot intriguing, though perhaps on the verges of becoming too fanciful for my prosaic tastes, but the book is drawn out unnecessarily and there are too many needless complications. I also found the characters rather poorly drawn and felt absolutely no empathy with McLean.I did persevere through to the end, and found some of the story enjoyable, but I doubt that i shall trouble to read any subsequent novels in the series.
Also in the Inspector Mclean series | View all