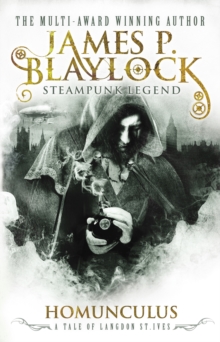 Description
It is the late 19th century and a mysterious airship orbits through the foggy skies.
Its terrible secrets are sought by many, including the Royal Society, a fraudulent evangelist, a fiendish vivisectionist, an evil millionaire and an assorted group led by the scientist and explorer Professor Langdon St.
Ives. Can St. Ives keep the alien homunculus out of the claws of the villainous Ignacio Narbondo?
Information
Format: Paperback
Pages: 408 pages
Publisher: Titan Books Ltd
Publication Date: 12/02/2013
Category: Fantasy
ISBN: 9780857689825
Free Home Delivery
on all orders
Pick up orders
from local bookshops
Reviews
Showing 1 - 1 of 1 reviews.
Review by NancyNo5
16/06/2015
James P. Baylock's novel featuring the inventor/adventurer Langdon St. Ives, has all the usual ingredients...airships, bad guys, good guys, evil scientist and of course zombies, necessary for a steampunk inspired tale.This novel reminded me of a Monty Python episode. Just the whole story seemed so madcap and zany!Huge carp, blood pudding eating zombies, a hunchback, reanimation of the dead and of course the comical scene of three different groups trying to steal the same box. The story is not deeply written and leaves many unanswered questions. Characters are one dimensional and lackluster. The author give no background of how they all originally met and what were their background stories. Then there is also the almost non-existent subject of the homunculus himself. He shows up for about a page. For a book with the title of Homunculus I expected his story to encompass most of the book but, that doesn't happen.Dr. Nabando and his assistant Willis Pule are probably the only two who have any depth to their character. The Dr. as the evil scientist and Willis Pule as his hapless, abused assistant. No it's not a great novel but I gave it 4 stars because of it's comical delivery.