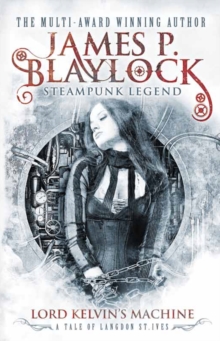 Lord Kelvin's Machine
Paperback
Description
Within the magical gears of Lord Kelvin's incredible machine lies the secret of time.
The deadly Dr. Ignacio Narbondo would murder to possess it and scientist and explorer Professor Langdon St.
Ives would do anything to use it. For the doctor it means mastery of the world and for the professor it means saving his beloved wife from death.
A daring race against time begins...
Information
Format: Paperback
Pages: 400 pages
Publisher: Titan Books Ltd
Publication Date: 12/03/2013
Category: Fantasy
ISBN: 9780857689849
Free Home Delivery
on all orders
Pick up orders
from local bookshops
Reviews
Showing 1 - 1 of 1 reviews.
Review by craso
16/06/2015
This book is divided into three separate stories with one theme running through all of them; Lord Kelvin's machine. In the first story, Dr. Ignacio Narbondo is trying to shift the orbit of the Earth into the path of a passing comet. The Royal Academy wants to use Lord Kelvin's machine to change the magnitude of the Earth's poles to repel the comet but Professor Langdon St. Ives believes that using the device will harm, and not help, the planet. The second tale starts with a mysterious explosion at the Royal Academy where Lord Kelvin's machine is being stored. A little while later there are reports of steel hulled ships going down off Dover. Then a creepy mother and son show up searching for an elixir that prolongs life. They think that the people who stole the apparatus also have the potion along with the cryogenically frozen Narbondo. In the third plot St. Ives is in possession of Lord Kelvin's apparatus and has turned it into a time traveling device.This is what I imagined steampunk to be; real scientists from history working on impossible technology during the Victorian era with plenty of action and adventure. There really was a scientist named Lord Kelvin who developed the absolute temperature scale called the 'Kelvin scale,' formulated the second law of thermodynamics, and worked to install telegraph cables under the Atlantic. Another real scientist mentioned the novel is Sir Alexander Fleming who discovered penicillin. These aren't just science fiction stories they are also adventure stories. Professor St. Ives has a group of men, including his faithful valet Hasbro, who follow him as he tracks down the evil Narbondo and saves the day. I look forward to reading more books in this series.