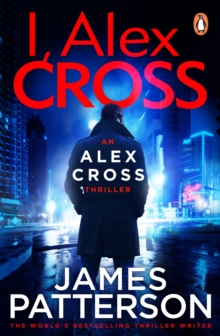 I, Alex Cross : (Alex Cross 16)
Paperback
Description
Detective Alex Cross is pulled out of a family celebration and given the awful news that his niece, Caroline, has been found brutally murdered.
Cross vows to hunt down the killer, and soon learns that Caroline was mixed up in one of Washington's wildest scenes. And she was not this killer's only victim. The hunt for her murderer leads Alex and his girlfriend, Detective Brianna Stone, to a place where every fantasy is possible, if you have the credentials to get in.
Alex and Bree are soon facing down some very important, very protected, very dangerous people in levels of society where only one thing is certain - they will do anything to keep their secrets safe.
As Cross closes in on the killer, he discovers evidence that points to the unimaginable - a revelation that could rock the entire world.
Information
Format: Paperback
Pages: 480 pages
Publisher: Cornerstone
Publication Date: 10/06/2010
ISBN: 9780099514596
Other Formats
CD-Audio from £8.75
EPUB from £4.99
eAudiobook MP3 from £7.20
Free Home Delivery
on all orders
Pick up orders
from local bookshops
Reviews
Showing 1 - 1 of 1 reviews.
Review by welshy72
16/06/2015
In the 16th book of the Alex Cross series, Cross's niece is found brutally murdered. Overcome with grief, Alex vows to take down her killer before he strikes again. But shortly after he begins the investigation, Alex discovers that his niece had gotten mixed up with some very important, very dangerous people. And she's not the only one who has disappeared.The hunt for the murderer leads Alex and his girlfriend, Bree, to Washington's most infamous club, a place where every fantasy is possible, if you have the credentials to get in. The killer could be one of their patrons, one of Washington's elite who will do anything to keep their secrets buried.I'm not a fan of American police type books and for me this book didn't excite but before that puts you off let me explain. For a start it was the 16th book in a series, I hadn't read any of the previous books so jumping in at that stage I had missed any personal and professional relationships being built so where the book mentioned Cross and another colleague, I didn't quite get how their relationship worked, I felt like I was missing out when things that had happened in previous books were mentioned. Another thing about this book was there was way too many characters, not only were there work colleagues and family members involved in the story but also the 'baddies' and I didn't want to keep going back and checking who was who.One of the reasons I don't like American books is the termology that is used. For example, the story was told from Cross's point of view and he said, I spelled Bree then Aunt Tia spelled me. I think I know what it is now but I don't want to stop reading a book to wonder how different sayings are meant. I want to read, maybe guess at 'who dunnit' and not have to think about these things.Having said that, I feel quite sure that if I had read the series from the beginning then I would be writing a very different review right now. If your a fan of Alex Cross then this book would be a real page turner for you, it was action packed and the story kept it's pace all the way through. There was plenty going on in Cross's work and personal life to keep the story flowing. The chapter's were short, at most 5 pages long so any fans would fly through this book and I don't think they'd be disappointed. Not for me but would recommend it to others.
Also in the Alex Cross series | View all