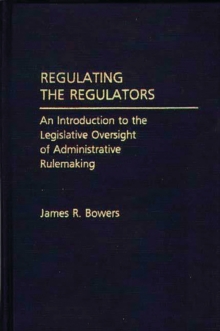 Regulating the Regulators : An Introduction to the Legislative Oversight of Administrative Rulemaking
Hardback
Description
Increasingly, state regulations are implemented and exercised by the administrative discretion of state bureaucracies.
This increased rulemaking activity threatens to rival, or even replace, state legislatures as the principal source of new laws emanating from state government.
To combat this, state legislatures now routinely seek to regain their preeminence as lawmakers by overseeing administrative rulemaking authority.
This oversight is frequently conducted through a process known as rules review.
The process, a systematic form of legislative oversight, encourages the responsible exercise of rulemaking authority by requiring legislative scrutiny of proposed regulations prior to final adoption by the issuing agency.
Regulating the Regulators presents an introduction to rules review.
James R. Bowers examines this process through an in depth case study of the Illinois General Assembly. Regulating the Regulators presents an introduction to this important and widely used method of oversight by state legislatures.
The author poses three basic questions about rules review that previous works have not asked: Why is a state legislature likely to incorporate rules reviews in its oversight arsenal?
What is the substance and nature of rules review likely to be?
What factors are likely to contribute to agency responsiveness to rules review?
These questions are examined through an in depth case study of the rules review process in the Illinois General Assembly.
From this case study, Regulating the Regulator develops a number of analytic generalizations upon which future research and a more general understanding of rules review can be built.
Students of both legislative an administrative process, as well as state legislators and state level public administrators, will find Regulating the Regulators a valuable source of information.
This book is particularly well-suited for upper-level undergraduate and graduate courses in state governement and politics, administrative process, regulatory politics, and administrative theory.
Free Home Delivery
on all orders
Pick up orders
from local bookshops