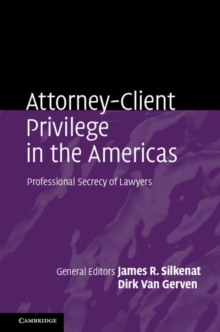 Attorney-Client Privilege in the Americas : Professional Secrecy of Lawyers
Hardback
Description
One of the major challenges facing the legal profession today is how to adapt and apply the concept of attorney-client privilege (or professional secrecy) in an increasingly globalised world.
Rules on attorney-client privilege differ significantly from country to country.
This book explores such differences within 32 jurisdictions in North, Central and South America and the Caribbean.
Together with its complementary volume Professional Secrecy of Lawyers in Europe (Cambridge, 2013), this book explores the creation of a common definition for attorney-client privilege which can be accepted by a wide variety of countries and international institutions.
Practice and interpretation within each jurisdiction is mapped and explored, including reference to local laws, ethical rules and case law.
This book is a useful resource for those working on transactions or litigations which involve several countries.
Information
Format: Hardback
Pages: 562 pages
Publisher: Cambridge University Press
Publication Date: 20/01/2017
Category: Legal skills & practice
ISBN: 9781107171282