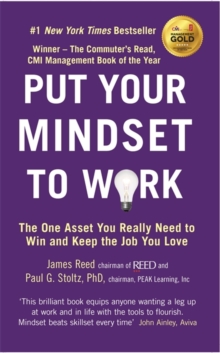 Put Your Mindset to Work : The One Asset You Really Need to Win and Keep the Job You Love
Paperback / softback
Description
How the right mindset makes you three times more likely to get the job you wantWhat's the real secret of successful job hunters?In these unstable times, everyone wants to stand out from the crowd and secure a rewarding job with long-term potential.
But what does it actually take to get the job you want?
Ninety-seven percent of employers argue that it goes beyond having the right skills - it's all about the right mindset. James Reed, chairman of recruitment giant Reed, knows what employers really want from the people they hire and promote.
With bestselling author Paul Stoltz, he has now identified exactly what makes you more likely to succeed when you're job hunting. In this book, Reed and Stoltz explain the '3G Mindset' - the way to develop the traits that will set you apart from the herd.
Their powerful tools will help you assess your own mindset, and show employers your true value. James Reed is the Chairman of REED, the recruitment specialists.
James first joined the company in 1991 after graduating from Harvard Business School.
He is the co-creator, along with Paul G. Stoltz, of the world's leading theory and model for gauging and strengthening a winning mindset, the subject of this book, Put Your Mindset to Work.
He is also a Fellow of the Chartered Institute of Personnel and Development (CIPD).
James is based in London, where he lives with his wife and family. Paul G. Stoltz, PhD, is the world's leading expert on measuring and strengthening human resilience.
He is the author of three international bestselling books on the subject, printed in 15 languages.
In 1987, Dr. Stoltz founded PEAK Learning, Inc., a global research and consulting firm.
He has been honoured with such accolades as "Top 10 Influential International Thinkers," (HR Magazine) "Thought Leader of the Year," (Hong Kong) and "One of the 100 Most Influential Thinkers of Our Time" (Executive Excellence).
Dr. Stoltz resides in California with his family.
Free Home Delivery
on all orders
Pick up orders
from local bookshops