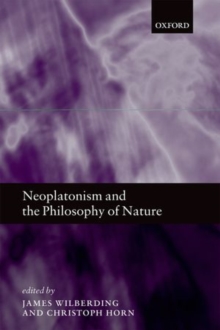 Neoplatonism and the Philosophy of Nature
Hardback
Description
Despite Platonism's unquestioned claim to being one of the most influential movements in the history of philosophy, for a long time the conventional wisdom was that Platonists of late antiquity, or Neoplatonists, were so focused on otherworldly metaphysics that they simply neglected any serious study of the sensible world, which after all is 'merely' an image of the intelligible world.
Only recently has this conventional wisdom begun to be dispelled. In fact, it isprecisely because these thinkers did see the sensible world as an image of the intelligible world that they devoted so much time and energy to understanding its inner workings. Thus we find Neoplatonists writing on embryology, physiology, meteorology, and astronomy, among other subjects. Neoplatonism and the Philosophy of Nature collects essays by leading international scholars in the field which shed new light on how the Neoplatonists sought to understand and explain nature and natural phenomena.
It is thematically divided into two parts, with the first part-The General Metaphysics of Nature-directed at the explication of central Neoplatonic metaphysical doctrines and their relation to the natural world, and the second part-Platonic Approaches to IndividualSciences-showing how these same doctrines play out in individual natural sciences such as elemental physics, geography, and biology.
Together these essays show that a serious examination of Neoplatonic natural philosophy has far-reaching consequences for our general understanding of the metaphysics of Platonism as well as for our evaluation of their place in the history of science.
Information
Format: Hardback
Pages: 268 pages
Publisher: Oxford University Press
Publication Date: 01/03/2012
Category: History of Western philosophy
ISBN: 9780199693719
Free Home Delivery
on all orders
Pick up orders
from local bookshops