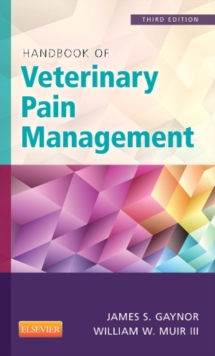 Handbook of Veterinary Pain Management
Paperback / softback
Description
You can trust this user-friendly guide to help you meet the increasing need for effective pain management in the animals you treat.
It provides instant access to clinically relevant information on pain assessment, pharmaceutical and non-pharmaceutical treatment options, guidelines for managing acute and chronic pain, and unique aspects of pain management in dogs, cats, horses, cattle, birds, reptiles, ferrets, and rabbits. The latest information on complementary and alternative strategies for pain management offers the guidance to help you incorporate non-pharmacologic treatments into their pain management programs. Numerous boxes and tables summarize pharmacologic protocols and clinical applications, with dosages, indications, contraindications, and side effects to provide you with the comprehensive drug information needed to find the most effective and appropriate treatment. User-friendly format helps you quickly and easily find essential information. Case studies illustrating realistic clinical scenarios help you learn how to assess and manage pain in the clinical setting. NEW! Eight new chapters include the latest information on: the human-animal bondlocal and regional techniquespreventive and multimodal analgesiaenergy modalitiesacupuncturephysical examination with emphasis on isolating and locating paintherapeutic goalspain in laboratory animals NEW!
Completely updated drug information, with new agents, doseforms, and routes provides the most current pain management therapies for use in the clinical setting. NEW! Expanded sections on the cat and exotics address the growing popularity of these pets by providing additional species-specific information.
Information
Format: Paperback / softback
Pages: 640 pages, Approx. 140 illustrations
Publisher: Elsevier - Health Sciences Division
Publication Date: 28/08/2014
ISBN: 9780323089357
Other Formats
EPUB from £38.87
Paperback from £43.65
Also by James S. Gaynor