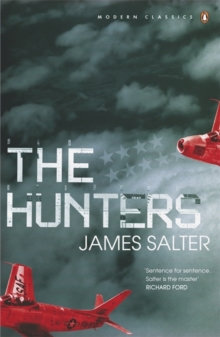 Description
Captain Cleve Connell arrives in Korea with a single goal: to become an ace, one of that elite fraternity of jet pilots who have downed five MIGs.
But as his fellow airmen rack up kill after kill - sometimes under dubious circumstances - Cleve's luck runs bad.
Other pilots question his guts. Cleve comes to question himself. And then in one icy instant 40,000 feet above the Yalu River, his luck changes forever.
Filled with courage and despair, eerie beauty and corrosive rivalry, James Salter's luminous first novel is a landmark masterpiece in the literature of war.
Information
Format: Paperback
Pages: 256 pages
Publisher: Penguin Books Ltd
Publication Date: 01/03/2007
Category: War & combat fiction
ISBN: 9780141188645
Other Formats
EPUB from £13.43
Paperback from £11.25
Free Home Delivery
on all orders
Pick up orders
from local bookshops
Reviews
Showing 1 - 2 of 2 reviews.
Review by MikeFarquhar
16/06/2015
The Hunters, by James Salter, is the perfect example of a book that just jamp out from me from the shelves of a bookshop that I would never have bought off of somewhere like amazon.This is a reissued edition of a book labelled as a modern classic, and probably rightly so. It tells of American Captain Cleve Connell, an expert fighter pilot, as he arrives at the frontline of the Korean War to challenge the Russian MiGs in the air. Sparsely told, this is what I assume Jed Mercurio was trying to evoke in Ascent, but where he stuttered, Salter's book sings. His ability to describe and evoke a war long since forgotten from the minds of most is superb, but - again, unlike Mercurio - he also pulls no punches with filling in the human element of his characters. Captivating from beginning to bittersweet end, an excellent war novel, and one I hope comes to renewed attention through its reissue.
Review by wandering_star
16/06/2015
The Hunters is about a group of US fighter pilots during the Korean War. The main character, Cleve Connell, has always been a good flyer. Feeling that it comes naturally to him, he's never needed to be proud or arrogant about his abilities. He likes to take the necessary risks - and he loves to fly. But when he arrives at his new squadron, his luck turns bad. The book examines how Cleve - a fundamentally decent person - deals with that situation, his disappointment in himself and the gradual way in which the rest of the squadron distance themselves from him.The book is really vivid when describing the group, with its competitiveness and camaraderie. There is a clear demarcation between the cautious few who are concerned about getting out alive and afraid of what might happen (exemplified by a pilot who each mission fills the pockets of his flying jacket with comforts in case he has to land in enemy territory - chocolate, cigarettes, handwarmers), and the lucky, (over-)confident, bombastic "heroes". Some of those heroes, of course, haven't done everything they claim to - after all, you make your own luck. And yes, since you ask, the prose style is excellent. The words manage to convey an amazing amount of emotion - the uplift of Cleve's first flying mission, compared to the dull slog of his preparations on the ground, and the surges of excitement, panic and disappointment he goes through during the flights. And it's also a great depiction of the way that leadership can slip away from someone - the way that others can lose confidence in him, and the spiralling effect that has. If I had any complaints about the book it would be that occasionally the next twist in the story is fairly predictable. But, given the fatalistic tone of the way the story develops, I think that's something I can forgive.
Also in the Penguin Modern Classics series | View all