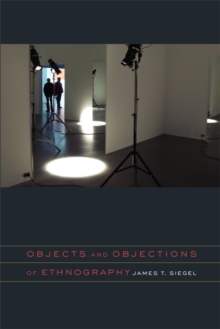 Objects and Objections of Ethnography
Paperback / softback
Description
The essays in this volume, in all their astonishing richness and diversity, focus on the question of the "other." Brimming with whole flotillas of new ideas, they delineate subtle and various ways in which that question can be made the basis of an ethnographic project. In them, the author responds to the invitations extended by a specific location rather than pursuing a codified method. And they examine many different socialities in many different locations-among them the Cornell University campus in the late seventies, the former Musee de l'Homme and the Quai Branly Museum in Paris, theIndonesian province of Aceh in the wake of the tsunami of 2004, and contemporary Indonesia, in the liminal figures of the Jew and the Chinese.
The author meticulously traces how the social and cultural responses in each location are astonishingly different-in the form, say, of gorges, faces, garbage, and fetishes. Regrettably, these days anthropologists have a tendency to look for similarities rather than differences, to show how one phenomenon is "just like" another.
This book stands determinedly against this trend, both in its ethnographic examinations and in how it takes up such figures as Kant, Derrida, Bataille, Simmel, and Leiris so as to illuminate not only the objects of ethnography but also differences among the perspectivesthese thinkers represent. This book will put the methods and objects of anthropology in an entirely new light.
In addition, it will speak to the concerns of historians, political scientists, and scholars of area studies, literature, and art.
Information
Format: Paperback / softback
Pages: 188 pages
Publisher: Fordham University Press
Publication Date: 18/12/2010
Category: Ethnic studies
ISBN: 9780823232758
Free Home Delivery
on all orders
Pick up orders
from local bookshops