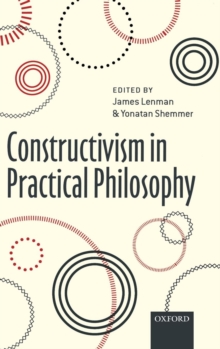 Constructivism in Practical Philosophy
Hardback
Description
This volume presents twelve original papers on constructivism - some sympathetic, others critical - by a distinguished group of moral philosophers. 'Kantian constructivism holds that moral objectivity is to be understood in terms of a suitably constructed social point of view that all can accept.
Apart from the procedure of constructing the principles of justice, there are no moral facts.' So wrote John Rawls in his highly influential 1980 Dewey lectures 'KantianConstructivism in Moral Theory'.
Since then there has been much discussion of constructivist understandings, Kantian or otherwise, both of morality and of reason more generally.
Such understandings typically seek to characterize the truth conditions of propositions in their target domain in maximallymetaphysically unassuming ways, frequently in terms of the outcome of certain procedures or the passing of certain tests, procedures or tests that speak to the distinctively practical concerns of deliberating human agents living together in societies.
But controversy abounds over the interpretation and the scope as well as the credibility of such constructivist ideas.
The essays collected here reach to the heart of this contemporary philosophical debate, and offer a range of new approaches andperspectives.
Free Home Delivery
on all orders
Pick up orders
from local bookshops