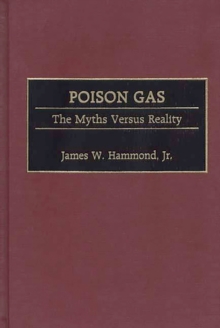 Poison Gas : The Myths Versus Reality
Hardback
Description
The threat of poison gas, and other related biological warfare agents, holds our society hostage to the possible actions of terrorist groups or rogue states.
This study hopes to convince policymakers and the general public that the bad reputation that surrounds the use of gas is largely the result of propaganda, misinformation, and oft-repeated half-truths.
With proper precautions and discipline, neither the military nor society need fear gas as a weapon of mass destruction, wielded by dictators and cowards who utilize the loopholes in international agreements and flaunt world opinion.
While not advocating the use of toxic gas in warfare, the author argues that education and common sense are the most effective tools to combat the gases that remain in arsenals around the world. After a discussion of the earliest uses of gas and other similar tactics in warfare, this book explains how our image of gas has been shaped by early pronouncements that branded it a treacherous and barbarous weapon.
The fear of retribution, as well as political motivations, prevented the use of gas warfare in the Second World War, but its use resurfaced in later decades both in warfare and in combatting internal strife.
The author details various types of gas and discusses the most effective measures to counter each one.
He also chronicles the long history of attempts to outlaw gas, why these attempts have failed, and why such efforts are not likely to succeed in the future.
Information
Format: Hardback
Pages: 184 pages
Publisher: ABC-CLIO
Publication Date: 30/06/1999
Category: Humamities
ISBN: 9780313310386
Free Home Delivery
on all orders
Pick up orders
from local bookshops