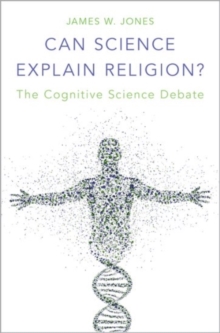 Can Science Explain Religion?
Hardback
Description
The "New Atheist" movement of recent years has put the science-versus-religion controversy back on the popular cultural agenda.
Anti-religious polemicists are convinced that the application of the new sciences of the mind to religious belief gives them the final weapons in their battle against irrationality and superstition. What used to be a trickle of research papers scattered in specialized scientific journals has now become a torrent of books, articles, andcommentary in the popular media pressing the case that the cognitive science of religion can finally fulfill the enlightenment dream of shrinking religion into insignificance, if not eliminating it altogether.
James Jones argues that these claims are demonstrably false.
He notes that cognitive scienceresearch is religiously neutral; it can be deployed in many different ways in relation to the actual belief in and practice of religion: to undermine it, to simply study it, and to support it.
These differences are differences in interpretation of the data and, Jones suggests, a reflection of the background assumptions and viewpoints brought to the data.
The goal of this book is not to defend either a general religious outlook or a particular religious tradition but to make the case that while there is much to learn from the cognitive scientific study of religion, attempts to use it to "explain" religion are exaggerated and misguided.
Drawing on scientific research and logical argument Can Science Explain Religion? directly confronts the claims of these debunkers of religion, providing an accessibly written, persuasive account of whythey are not convincing.
Information
Format: Hardback
Pages: 248 pages
Publisher: Oxford University Press Inc
Publication Date: 21/01/2016
Category: Religion & science
ISBN: 9780190249380