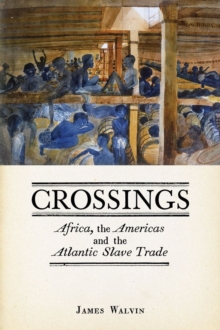 Description
From the mid-fifteenth century to the close of the nineteenth, it is estimated that more than 12 million people from Africa were forced onto slave ships and transported to the Americas; at least 11 million survived the journey.
Even after Britain banned the importation of African slaves in its colonies in 1807, and the U.S. followed suit in 1808, more than 3 million Africans made the terrible transit across the Atlantic.
Slavery itself was not finally ended until Brazilian emancipation in 1888.
Crossings explores the broad sweep of slavery across the Atlantic world, revealing the extraordinary efforts to end it as well as the remarkable degree to which slavery and the slave trade managed to survive, even to the present day.
In the most authoritative history of the entire slave trade to date, James Walvin returns the emphasis of the story to its origins in Africa.
It was here that the trade originated, here that the terrible ordeal of slaves began, and here that the scars remain today. Journeying across the ocean, Crossings also explores the history of Portugese, French and British colonies, as well as its development in the USA, and shows how Brazilian slavery was central to the development of the slave trade itself: that country tested techniques and methods for trading and slavery that were successfully exported to the Caribbean and the rest of the Americas in the following centuries.
This book examines some vital unanswered questions, such as how did a system which the Western world had come to regard with distaste manage to survive for so long? And why were the British - so fundamental in developing and perfecting the slave trade - so prominent in its eradication?
This groundbreaking study makes use of major new developments in research, rendering them available to a broad readership for the first time and offering a new understanding of one of the most important, and tragic, episodes in world history.
Information
Format: Hardback
Pages: 272 pages
Publisher: Reaktion Books
Publication Date: 01/09/2013
Category: African history
ISBN: 9781780231945
Free Home Delivery
on all orders
Pick up orders
from local bookshops