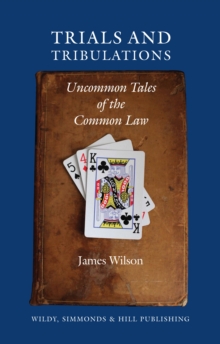 Trials and Tribulations : Uncommon Tales of the Common Law
Hardback
Description
Why are court cases such a fertile source for writers of fiction and non-fiction alike?
For a start, they usually have a beginning, middle and end; and a ready cast of characters playing defined roles.
They always have an inherent crisis to be resolved. But they also contain a great deal of human interest: behind the theatrics and etiquette of the courtroom, and the often arcane language and concepts of the law, there are real people seeking answers to real-life problems. The common law is sometimes made by faceless corporations, or rich and powerful individuals seeking to preserve their money or reputation. Just as often, however, it is made by ordinary people who are not seeking fame or wealth, but who are simply trying to right whatever they believed has been wronged. This book is a collection of 50 stories of notable court cases spanning more than a century. There are great ethical dilemmas - the tragic case of the conjoined twins where one, but not both, could survive, or the football fan Tony Bland who was left in a persistent vegetative state after the Hillsborough Disaster, and whose family faced the tragic choice of ending treatment.
There are significant legal cases such as Donoghue v Stevenson and Carlill v Carbolic Smoke Ball Company. There are also great Victorian scandals such as Oscar Wilde's fall from high society, or the wrongful imprisonment of Captain Dreyfus.
Then there are more topical cases, such as those involving religion and the law and the 'clash of rights' that sometimes occurs when devout people find their conscience will not allow them to act according to the law. And then there are cases that can only be described as absurd.
The writer Julie Burchill was once sued by someone who was offended by her calling him 'ugly'. In another case, an unfortunate marital dispute required the judge to look at reams of hard-core pornography, and to try to find judicially-appropriate neutral language to describe it. Written in an accessible style with an eye to the human as much as legal interest, the book will be of interest to lawyers and non-lawyers alike.
Information
Format: Hardback
Pages: 250 pages
Publisher: Wildy, Simmonds and Hill Publishing
Publication Date: 30/09/2015
Category: Legal history
ISBN: 9780854901715
Free Home Delivery
on all orders
Pick up orders
from local bookshops