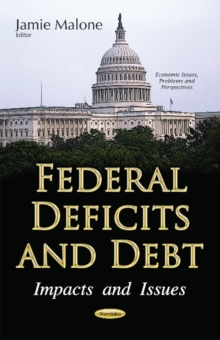 Federal Deficits & Debt : Impacts & Issues
Paperback / softback
Description
The federal government incurs a budget deficit (also known as a net deficit) when its total outgoing payments (outlays) exceed the total money it collects (revenues).
If instead federal revenues are greater than outlays, then the federal government generates a surplus.
Deficits are measured over the course of a defined period of time -- in the case of the federal government, a fiscal year.
Over time, persistent budget deficits can hamper economic growth.
Federal debt, either publicly held or intragovernmental, is funded through private capital.
In the absence of federal debt, a portion of such funding would likely have been used on private investment projects that could increase the future productive capabilities of the economy.
Large or rapidly increasing debt levels could also make the economy more susceptible to a recession, although that dynamic has not manifested itself in the United States.
This book explores distinctions in the concept and composition of deficits and debt, explains how these two measures interact, and discusses their possible effects on the economy.
Furthermore, the book discusses the size of projected budget deficits; how much the deficit would need to be reduced to return to long-term sustainability; analyzes alternative time frames for reducing the deficit; and discusses broad policy choices for reducing the deficit.
Information
Format: Paperback / softback
Pages: 100 pages
Publisher: Nova Science Publishers Inc
Publication Date: 01/12/2016
Category: Public administration
ISBN: 9781536102680