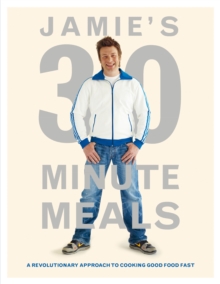 Jamie's 30-Minute Meals
Hardback
Description
Get your complete meals from kitchen to table in no time at all, in the bestselling Jamie's 30-Minute MealsMake your kitchen work for you . . . Jamie Oliver will teach you how to make good food super fast!
Jamie proves that, by mastering a few tricks and being organized and focused in the kitchen, it is absolutely possible, and easy, to get a complete meal on the table in the same amount of time you'd normally spend making one dish!The 50 brand-new meal ideas in this book are exciting, varied and seasonal.
They include main course recipes with side dishes as well as puddings and drinks, and are all meals you'll be proud to serve your family and friends.
Set meals include melt-in-the-mouth Spring Lamb with Veg and a deep Chianti Gravy followed by Chocolate Fondue and a Mushroom Risotto with Spinach Salad and moreish Lemon and Raspberry Cheesecake.Last minute lunch plans?
No problem. Jamie's 30-Minute Meals not only includes stunning three course meals, but also light lunches like tender Duck Salad followed by creamy Rice Pudding and Stewed Fruit.
Jamie offers a tasty dish for every occasion and has written the recipes in a way that will help you make the most of every single minute in the kitchen.This book is as practical as it is beautiful, showing that with a bit of preparation, the right equipment and some organization, hearty, delicious, quick meals are less than half an hour away.
With the help of Jamie Oliver and Jamie's 30-Minute Meals, you'll be amazed by what you're able to achieve.'There is only one Jamie Oliver.
Great to watch. Great to cook' Delia Smith
Information
Format: Hardback
Pages: 288 pages, full colour integrated photography
Publisher: Penguin Books Ltd
Publication Date: 01/09/2010
Category: TV / celebrity chef cookbooks
ISBN: 9780718154776
Free Home Delivery
on all orders
Pick up orders
from local bookshops
Reviews
Showing 1 - 5 of 5 reviews.
Review by brigitte64
16/06/2015
I have almost all of J. Olivers cookbooks and I use them a lot, but this one is different.He uses a lot of words that I never heard of like dauphinose or affogato or rocket or passata. o.k. I can look this up and learn something. When I follow his recipe (it`s always a vegetable, meat, oup or salat and dessert -done in 30 minutes!) I feel like I run a marathon , but ! it works, in a short time I managed to bring a whole yummi Meal to the table.He uses a couple of good tricks and a microwave ( which I don`t like and use-but it works also without it) which makes cooking faster.I woud not recomend this book for a starter cook.
Review by rory1000
16/06/2015
Not once have I managed to get one of these completed in less than hour.Taste nice though.
Review by evaberry
16/06/2015
Annoying as it seems that Jamie Oliver can cash in on his celebrity status by releasing books every few months and being on TV constantly (every time I switch it on, it seems), you have to admit that he has some very good, fresh ideas. This is one of them: demonstrating that you can cook a very good meal with high-quality, healthy ingredients in the time it usually takes to decide what to buy from the freezer section in the supermarket. The recipes are simple - that's the whole premise - but his approach is the same as always: fresh, real and clean-tasting. Okay, so unless you are REALLY well-organised and don't waste any time (e.g. reading the recipe), 30 minutes from start to finish is a bit unrealistic. But 40-45 minutes seems doable, and that's not bad either!My only quibble is, do there really need to be anchovies in almost every dish?!
Review by wulf
16/06/2015
I haven't yet tried any of the recipes (although ingredients are in place to give one of them a shot tonight). However, beyond the introduction, where Jamie's familiar enthusiasm bubbles through, it is just a large collection of carefully staged plans to give quick meals. I would rather have had fewer recipes and more space to explain the how and why of each one. You get that on the TV series and, for the time being, I can find it online but I want a cookbook that will be inspiring even when video explanations are no longer available.
Review by Fliss88
16/06/2015
As to be expected from Jamie Oliver, another fabulous book, full of wonderful photography and recipes that are easy to follow and of the type that you would cook many times over. I like the way this guy works in the kitchen!