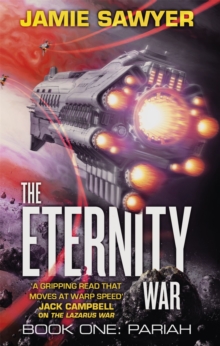 The Eternity War: Pariah
Paperback / softback
Description
'A NEW MASTER OF SCIENCE FICTION' William C. Dietz, author of the Halo tie-in novels'Jamie Sawyer is easily one of the best military SF writers working today - a must read for anyone who grew up watching Aliens and reading 2000AD' Gavin Smith, author of The Bastard LegionThe Eternity War series is an explosive tale of elite marines, deep-space exploration and warring galactic empires. The soldiers of the Simulant Operations Programme are mankind's elite warriors.
Veterans of a thousand battles across a hundred worlds, they undertake suicidal missions to protect humanity from the insidious Krell Empire and the mysterious machine race known as the Shard.
Lieutenant Keira Jenkins is an experienced simulant operative and leader of the Jackals, a team of raw recruits keen to taste battle.
They soon get their chance when the Black Spiral terrorist network seizes control of a space station.
Yet no amount of training could have prepared the Jackals for the deadly conspiracy they soon find themselves drawn into - a conspiracy that is set to spark a furious new war across the galaxy. Set in the same universe as Jamie Sawyer's acclaimed Lazarus War novels, The Eternity War series is an explosive tale of elite marines, deep-space exploration and warring galactic empires. Praise for Jamie Sawyer:'A gripping read that moves at warp speed' Jack Campbell, author of the Lost Fleet series'Alien biomechs . . . terrorism, subterfuge and traitors . . . starships sporting particle beam weapons, railguns the size of skyscrapers, laser batteries, missiles . . . This, dear readers, is the good stuff' Neal Asher, author of the Agent Cormac novels 'Fast-paced and full of action' SFX'Gripping, gritty and unsentimental - Sawyer shows us how perilous future war can be' Michael Cobley, author of Seeds of Earth'An adrenaline shot of rip-roaring military SF' Stephen Deas
Information
Format: Paperback / softback
Pages: 464 pages
Publisher: Little, Brown Book Group
Publication Date: 26/09/2017
Category: Science fiction
ISBN: 9780356508122
Free Home Delivery
on all orders
Pick up orders
from local bookshops
Also in the The Eternity War series | View all