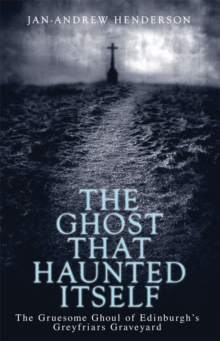 The Ghost That Haunted Itself : The Gruesome Ghoul of Edinburgh's Greyfriars Graveyard
Paperback
Description
Greyfrair's Cemetery in Edinburgh has a centuries old reputation for being haunted.
Its gruesome history includes use as a mass prison, headstone removal, witchcraft, bodysnatching, desecration, corpse dumping and live burial. In 1998, something new and inexplicable began occurring in the graveyard.
Visitors encountered 'cold spots', strange smells and banging noises.
They found themselves overcome by nausea, or cut and bruised by something they could not see.
Over the space of two years, twenty-four people were knocked unconscious.
Homes next to the graveyard wall became plagued by crockery smashing, objects moving and unidentified laughter.
Witnesses to these attacks ran into the hundreds. There were two exorcisms of the area. Both failed. The section of Greyfriars where the attacks occurred is now chained shut.
The entity responsible has been named the 'Mackenzie Poltergeist'.
It has become one of the best-documented and most conclusive paranormal cases in history. The Poltergeist is still growing stronger. This is its story.
Information
Format: Paperback
Pages: 208 pages
Publisher: Mainstream Publishing
Publication Date: 01/07/2001
Category: Ghosts & poltergeists
ISBN: 9781840184822
Free Home Delivery
on all orders
Pick up orders
from local bookshops
Reviews
Showing 1 - 1 of 1 reviews.
Review by ElleLainey
16/06/2015
I really enjoyed this book. As well as being spooky and entertaining, as it tells the story of Ben Scott and his venture to start the City of the Dead Tours, it gives an accurate history of Old Edinburgh and its experiences with ghosts.The book skirts the line being being flippant about ghosts ever existing and being completely convinced that ghosts are real. This is probably Bloody Mackenzie's fault, the poltergeist of the narrative. He is sometimes ludicrous, sometimes playful, sometimes downright spiteful and sometimes he disappears for months on end.However, I'm a firm believer in respecting what you don't know. I've seen a ghost and although it didn't frighten me, it cemented my already open mind in a position of 'Just because you can't see it, doesn't meant it's not there'. That, to me, is how this book reads. There's a lingering respect for the supernatural world, a flitting, in and out of belief and disbelief. Just as I'm sure there is with Ben Scott. Sometimes it's only too easy to believe that a lingering spirit is being malevolent, and sometimes it seems silly. But at all times, the possibility is there.And that's what really spoked me with this book. The more I read about Blood Mackenzie, the more I'm convinced that ghosts are real. Some of them are just too nice to make themselves known; some like Mackenzie just like the limelight too much to give it up.This is the second book I've read by Jan-Andrew Henderson. I also read her The Town Below the Ground recently and both have proven to be fantastic. The more I read of this author, the more I'm looking forward to what they write next.