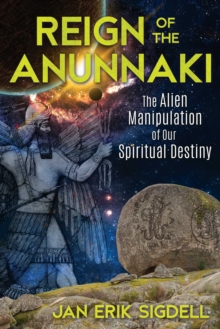 Reign of the Anunnaki : The Alien Manipulation of Our Spiritual Destiny
Paperback / softback
Description
Reveals the ongoing alien manipulation of humanity and how we can break free Cuneiform texts found on clay plates in Mesopotamia tell us about an extraterrestrial race, called the Anunnaki, who came from space to exploit our planet.
Through genetic manipulation, they created modern humans from existing earthly life forms to serve them as slaves.
They physically left our planet millennia ago, but as Jan Erik Sigdell reveals, their influence and control over humanity is still pervasive and significant. Sigdell explains how the Anunnaki have maintained invisible surveillance over us as well as control over how humanity develops, setting limits on our evolution and holding back our development by means of manipulation and catastrophes, including the deluge immortalized in the Bible and many other ancient myths.
He shows how they still manipulate our politics and affairs via secret societies, such as the Illuminati, and the political elite, such as the Bilderberg Group.
Examining ancient descriptions of the Anunnaki as entities that resemble winged reptiles or amphibians, the author also explores their diet and how they feed off blood and the energies given off by lower life forms, such as humans, when they are expressing extreme negative emotions, having sex, or dying. * Explores how the Anunnaki have maintained invisible surveillance over us and how they control our development through religion, secret societies, and catastrophes * Reveals how they feed off our energies and how this ability has allowed them to remain here on Earth as multidimensional entities, enforcing their control invisibly * Explains how they established religion to control us and how Gnostic Christianity--which came from Christ and not the Anunnaki--offers a way out of their matrix of control
Information
Format: Paperback / softback
Pages: 160 pages, 2 b&w illustrations
Publisher: Inner Traditions Bear and Company
Publication Date: 18/10/2018
Category: UFOs & extraterrestrial beings
ISBN: 9781591433033
Free Home Delivery
on all orders
Pick up orders
from local bookshops