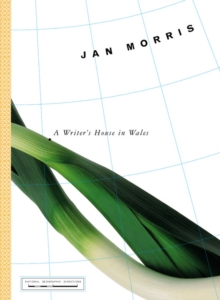 A Writer's House in Wales
Hardback
Description
Through an exploration of her country home in Wales, acclaimed travel writer Jan Morris discovers the heart of her fascinating country and what it means to be Welsh.
Trefan Morys, Morris's home between the sea and mountains of the remote northwest corner of Wales, is the 18th-century stable block of her former family house nearby.
Surrounding it are the fields and outbuildings, the mud, sheep, and cattle of a working Welsh farm.
She regards this modest building not only as a reflection of herself and her life, but also as epitomizing the small and complex country of Wales, which has defied the world for centuries to preserve its own identity.
Morris brilliantly meditates on the beams and stone walls of the house, its jumbled contents, its sounds and smells, its memories and inhabitants, and finally discovers the profoundest meanings of Welshness.
Information
Format: Hardback
Pages: 192 pages
Publisher: National Geographic Books
Publication Date: 01/02/2001
Category: Literary studies: from c 1900 -
ISBN: 9780792265238
Free Home Delivery
on all orders
Pick up orders
from local bookshops
Reviews
Showing 1 - 4 of 4 reviews.
Review by lahochstetler
16/06/2015
I really had no idea what I was going to get out of this book, and I have to say that I was pleasantly surprised. Being something of an Anglophile, I know far less about the rest of the UK. I've spend very little time there (though I used to live on the English side of the Welsh border), and much of it remains a mystery to me. This little volume did a nice job of giving a snapshot of the Welsh countryside. This book has no real narrative or plot. It is, as it sounds, a writer musing about her house in Wales, looking at how it fits in to Welsh history and into the countryside that surrounds it. The reader gets a good dose of Welsh culture. This is not the sort of book that can be read in one sitting. I read a few pages every night, and though the volume is short, it took me awhile to finish. Though the author is writing about her home, this is very much travel writing, in that it allows the reader to escape to a totally different place, and experience part of that world. For me, this was a rambling, amusing, and pleasant way to pass some time.
Review by carlym
16/06/2015
In this book, Morris uses her house, Trefan Morys, as a jumping-off point for digressions about Wales and the Welsh. While it is well-written and does contain interesting information about Wales, I did not particularly enjoy the book. The book wanders from topic to topic without direction, and her conceited tone put me off from the start. For example, she says that she loves having visitors at her home so much that she practically drags passers-by in for a cup of tea, but she would never stay with friends while traveling because they would bother her; she describes her neighbors as all "very good people" in the same way that mothers tell you their children are brilliant, but without the motherly excuse; she raves about how great the Welsh language is and how beautiful Welsh poetry is, but then says that her Welsh "is too simple" to appreciate this (so how can she know it's so great?); and she writes that only she "can really assess the true beauty of these rooms" in her house (so why bother telling us about them?). I did enjoy her description of her library and her troubles with organizing it, and I imagine that passage would resonate with other LTers as well.
Review by edwinbcn
16/06/2015
In the early years of the new century, the National Geographic Society invited a number of well-known authors to contribute a volume to its new series of National Geographic Directions. Each author chose a location to write about, and apparently authors were left free in their choice of what to write.Jan Morris, the renowned travel writer, chose to write about her home, which, as the titles shows, is quite literary about the house she lives in, more than about Wales in general.The result is a rather self-indulgent description of her home, which often feels drawn out to fill the pages, and make sure to produce enough copy. It verges on the edge of vanity.A Writer's House in Wales is the penultimate work of an author who has come to the end of her career as a writer. Since she is most well-known as a travel writer, describing far-away places, it seems fitting that in her last-but-one work she comes, or rather, stays home. A sympathetic volume, but of little interest.
Review by raschneid
16/06/2015
This is a beautiful, vivid, cozy, melancholy little book about Wales. It has made me sort of despair of writing any more about Welsh history and mythology without visiting North Wales, but these things happen. I am going to have to seek out more Jan Morris.<br/><br/>I would recommend that readers start with the afterword about the Welsh language, in order to avoid mentally butchering the pronunciation of the Welsh names.
Also in the National Geographic Directions S. series