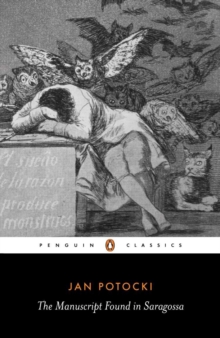 The Manuscript Found in Saragossa
Paperback
Description
Alphonse, a young Walloon officer, is travelling to join his regiment in Madrid in 1739.
But he soon finds himself mysteriously detained at a highway inn in the strange and varied company of thieves, brigands, cabbalists, noblemen, coquettes and gypsies, whose stories he records over sixty-six days.
The resulting manuscript is discovered some forty years later in a sealed casket, from which tales of characters transformed through disguise, magic and illusion, of honour and cowardice, of hauntings and seductions, leap forth to create a vibrant polyphony of human voices.
Jan Potocki (1761-1812) used a range of literary styles - gothic, picaresque, adventure, pastoral, erotica - in his novel of stories-within-stories, which, like the Decameron and Tales from the Thousand and One Nights, provides entertainment on an epic scale.
Information
Format: Paperback
Pages: 656 pages
Publisher: Penguin Books Ltd
Publication Date: 07/03/1996
ISBN: 9780140445800
Free Home Delivery
on all orders
Pick up orders
from local bookshops
Reviews
Showing 1 - 5 of 5 reviews.
Review by GrrlEditor
16/06/2015
The weirdest book I read in all of 2007. A bizarre cross of Don Quixote and the Decameron. A crazy framework of stories within stories within stories ... at one point even one of the characters within the story starts taking notes in order to keep it all straight. Conspiracy theories, romances, hanged men who keep coming back from the dead, great adventures, quite a bit of sex, a lot of fun! Who would have guessed it was written around 1800!
Review by StevenTX
16/06/2015
The Manuscript Found in Saragossa reads like a Gothic version of The Arabian Nights, only with the added element of an ongoing plot which weaves the individual stories together into a vast and marvelous web of conspiracy and intrigue. The narrator is Alphonse van Worden, a Walloon officer in Spanish service who, in 1739, undertakes a journey across a forbidding region of Spain known as the Sierra Morena. It is a territory known to be infested with bandits, but also a refuge for hermits as well as persecuted Gypsies, Jews and Muslims. Rumors of the supernatural abound as well.Worden's two servants desert him as soon as he enters the mountains, but he boldly presses on. He finds an inn, but it appears to be deserted until two beautiful maidens appear before him. They claim to be his distant cousins from a branch of the family that retained its Muslim faith after the Reconquista in 1492 and has been in hiding for over two centuries. They are destined to marry him if only he will convert to Islam, which he steadfastly refuses to do. That night Worden dreams that they come to him in his sleep, but he awakens in bright sunlight out in the open. His is lying beneath a gallows between the rotting corpses of two hanged men.Most of Worden's encounters are less alarming, but for the next two months he roams the Sierra Morena meeting characters such as a hermit, a cabbalist, a lovesick nobleman, a trio of bandits, a mathematician, and the infamous Wandering Jew. Each has a story to tell, and in many cases these stories contain other stories told by the people they have met. Like the stories within The Arabian Nights, these tales are nested within each other, sometimes as many as four layers deep, but they are clearly set apart with headings. The stories are also told intermittently in installments, so we have, for example, the gypsy chief's story alternating with those of the Wandering Jew and the Spanish mathematician for many chapters.The tales are mostly built around love stories that are one-sided or face the barriers of social class, religion, family feuds, or jealousy. Some involve supernatural aspects, but for the most part they are set against historical events or circumstances. The settings range from Spain, to Italy, to North Africa, to Mexico, and the characters range from beggars to emperors. As unlikely as it seems, all of these tales will be tied together in the final chapter.Potocki, a Polish nobleman and patriot, wrote the novel in French in the late 18th century. Parts of it were published in 1805 and 1813, but the original manuscript has disappeared. The missing parts were reconstructed from a Polish translation made in 1847. Potocki, who committed suicide in 1815, was obviously a man of broad interests and expertise. The Manuscript Found in Saragossa reflects his knowledge of Islam, Judaism, and the occult sciences. He treats other religions, other cultures, and women with a sympathy and respect seldom found in writings of the period. This is an entertaining, enlightening, and often suspenseful novel.
Review by bezoar44
16/06/2015
What a wonderful, bizarre book. I came across this book while looking for fiction composed of nested stories -- stories in which a narrator tells a story, a character in which tells another story, and so on. The Manuscript Found in Saragossa has this construction; the narrator of the frame story is a French soldier who claims to have discovered a manuscript in a deserted house in Saragossa. A Spanish captain who captures him recognizes the manuscript as the long-lost memoir of his grandfather, Alphonse van Worden, and translates it for the French soldier; the rest of the novel is that manuscript. Van Worden's manuscript incorporates a score of interlocking stories, including tales narrated by a bandit, a gypsy chief, the Wandering Jew, a caballist, his sister, an absent minded professor, and a number of minor characters. The story starts well: van Worden spends a night in a haunted, abandoned inn, and the nature of his experiences there becomes a mystery that drives the rest of his narrative: are they hallucinatory, supernatural, or the product of some conspiracy? But after that promising beginning, I found the book slow going, and eventually put it down. On a second try, I skipped a major thread, the story of the gypsy chief, which I'll return to read at a future date, and found that the narrative became funny and compelling towards its middle, with a mostly coherent conclusion. The character of the absent-minded professor - the 'geometer' -- is particularly satisfying, offering an amusing combination of incredibly poor interpersonal skills and insightful observations about his world. As others have noted, passages of the work have a surprisingly post-modern feel.
Review by Moghedianx7
16/06/2015
What an amazing book to get lost in! And at times I do mean that literally! Stories within stories within stories...I think I counted 6 stories deep, don't take my word for it it's been a few years.
Review by William345
16/06/2015
Unlike many so called classic texts I have read this one doesn't seem to have dated much. At least not in its first half. The writing is thought by scholars to have begun about 1809. As Salman Rushdie says in an attached blurb "...it reads like the most brilliant modern novel." I think that might be an effect of the recent English translation offered here that seems to give the text such a contemporary feel, like a modern-day historic novel.<br/><br/>The premise is that in the 1760s a Walloon officer named Alphonse (commissioned by Philip V) while traveling on leave in Andalucia, for centuries an Islamic land until the Reconquista, finds himself skirting a realm of ghosts, phantoms, specters, kindly bandits, storytelling gypsies and cabbalists. Because he does not at first succumb to the erotic offerings of these creatures--he has a very obnoxious sense of personal honor--he is able to preserve enough presence of mind to chronicle the many weird goings on. <br/><br/>The book is full of the so called Magic Realism used by Garcia Marquez and Rushdie himself. There are stories nested within stories nested within stories. The narrative is very straightforward. The characters wake up, go out, have dinner, come home, have sex, go to sleep, get up in the morning, and so on, and all of this action occurs during the briefest passages of text. There is the sense of the action moving full-tilt, almost out of control, but never really. It is only the impression created by the author's highly compressed style.<br/><br/>Among the treats offered by the narrative are vast underground hideouts carved out of the stone, sun-scorched landscapes à la <i>Don Quixote</i>, convincing erotic encounters between men and women, abrupt murders, sometimes by the score. At a haunted inn phantoms show up at the stroke of midnight, though it is not known from whence the tolling comes. A motif of two men hanged on a gibbet, supposedly brothers of the bandit Zoto, who tells his story here, recurs throughout the early pages. At night the men leave the gibbet and get into mischief.<br/><br/>There are strange elixirs to be drunk, seeming transportations through time and space, usually during a dream. On the whole the book a kind of onieric wonderland where men are men and women are women of a thankfully extinct old school, except when they're murdering succubi who only wish to eat young men because of the wonderful effect their blood has on the demonic constitution. <br/><br/>Then the Walloon officer succumbs, as he must, to the charms of the two Muslim women, who from the start have told him they are his cousins. A man who watches their erotic encounter sees only Alphonse sexually intimate with the two hanged men. From then on Alphonse seems to take some leave of his senses and is never sure if those Muslim women are his cousins / defacto wives or not. He sees them here in a pair of gypsy sisters, there in two women walking in the desert, but again it's not them. Later, he casts caution to the wind when he goes to meet them in an underground <i>chambre d'amour</I>. Who can blame him? It's either go insane or enjoy great if perhaps demonic sex with hot sisters!<br/><br/>In the meantime the gypsy leader tells his story, the geometer or mathematician tells his, the Wandering Jew tells his, the two Muslim "cousins" tell theirs, the male cabbalist tells his, the female cabbalist tells hers, and so on. All of the characters seek to tell stories that seem realistically within their realm of competence/experience. It is only the geometer's tale that seems to falter in the mid to late stages. One gets the impression that author Potocki had committed himself to a line of disquisition that he could not sustain. An astonishing novel of enormous complexity that is nevertheless highly readable, even difficult to put aside when sleep calls. Please read it.<br/><br/>PS. Some time later I began reading Matthew G. Lewis's <i>The Monk</i>. It seems unlikely that it was not a model for Potocki.