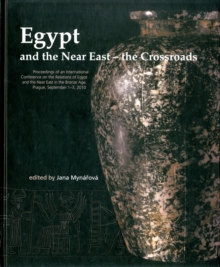 Egypt and the Near East - the Crossroads
Hardback
Description
The present volume presents the proceedings from the international workshop entitled Egypt and the Near East - the Crossroads, dedicated to the study of the relations between the two regions.
The symposium took place from September 1-3, 2010 at the Faculty of Arts, Charles University in Prague.
The main objective of the workshop was to enhance our understanding of the historical processes and the development of the abundant and complex relations between Egypt and the Near East during the period defined by the end of the Chalcolithic Period and the dawn of the Iron Age.
In light of this, special attention was given to the region of Syria-Palestine.
In order to obtain a well-balanced insight, the subject was discussed both from an archaeological and a philological point of view. The volume contains 14 papers, all of them closely related with the topic of the workshop with seven papers based on the study of material culture and archaeological data and seven papers devoted to the study of written sources.
The first group (archaeology and material culture) contains studies devoted to the Egyptian statuary from Qatna (A.
Ahrens), to material from a grown settlement of the late Middle Kingdom at Tell el-Dabca (B. Bader), an overview of results of recent excavations at Tell Tweini (J.
Bretschneider /A.-S. Van Vyve /G. Jans) and Tell el-Farkha (M. Czarnowicz), a study of the predynastic Egyptian influence in the Jordanian site of Tall Hujayrat al-Ghuzlan (F. Klimscha); an essay on religious symbolism in the Southern Levant in the Bronze Age according to iconography (F.
Lippke) and finally, an analysis of the Levantine combed ware from Heit el-Ghurab (A.
Wodzinska / M. Ownby). As for the second group of texts (written evidence) the volume contains the following papers: a reappraisal of the tale of Wenamun in the context of Ancient Near Eastern law (Ch.
Brinker), a revision of the chronology of the Amarna letters sent by Aziru, the ruler of Amurru (Cordani); a detailed revision of relations between Egypt and atti set into the context of Ancient Near Eastern chronology (E.
Devecchi / J. Miller), a linguistic analysis of the terminology used to refer to the king in Egyptian and Hittite texts from Ramesside period (J.
Mynarova); a study of the historical topography concerning the location of the toponym Qode (Z.
Simon); a reconstruction of the translation processes in the production and reception of the Amarna letters (H.
Tarawneh) and finally, an analysis of the relations between Egypt, Kush and Assyria before the battle of Eltekeh (S.
Zamazalova).
Information
Format: Hardback
Pages: 345 pages
Publisher: Czech Institute of Egyptology
Publication Date: 15/09/2011
Category: Egyptian archaeology / Egyptology
ISBN: 9788073083625
Free Home Delivery
on all orders
Pick up orders
from local bookshops