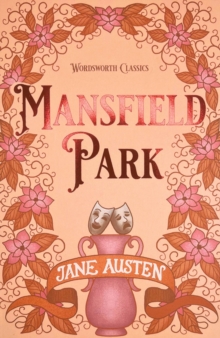 Description
Introduction and Notes by Dr Ian Littlewood, University of Sussex. Adultery is not a typical Jane Austen theme, but when it disturbs the relatively peaceful household at Mansfield Park, it has quite unexpected results. The diffident and much put-upon heroine Fanny Price has to struggle to cope with the results, re-examining her own feelings while enduring the cheerful amorality, old-fashioned indifference and priggish disapproval of those around her.
Information
Format: Paperback
Pages: 400 pages
Publisher: Wordsworth Editions Ltd
Publication Date: 01/05/1992
Category: Classic fiction (pre c 1945)
ISBN: 9781853260322
Other Formats
Paperback from £2.50
Hardback from £7.29
CD-Audio from £9.95
EPUB from £1.04
Free Home Delivery
on all orders
Pick up orders
from local bookshops
Reviews
Showing 1 - 5 of 6 reviews.
Previous | Next
Review by littlebookworm
16/06/2015
After reading all these reviews, I was surprised to like this book as much as I did. I think it is essential to understand the period in which Austen was writing and the morals of the time, because otherwise the book ends up looking silly and the characters completely boring. While Fanny is very timid and has little spark, making her a less interesting heroine, I find that the treatment of her by everyone who expects her to meekly be obedient is what has made her that way. Moreover, the fact that Edmund is her only true friend has also shaped her morals in a way that makes her less likely to be bold. Basically, in this novel I found the characters less engaging but the implications and the society very interesting. Austen clearly laments the lack of morals in her society and in the process provides much food for thought.
Review by helen295
16/06/2015
I first read this book when I was 14 - it was the second Jane Austen book I read after Pride and Prejudice, which I loved. However, I found Mansfield Park dull and lacking the humour of Pride and Prejudice, and I didn't manage to finish it.I have read it again recently and this time I found that I enjoyed it. It's true that Fanny Price is not very interesting as a main character, but the book is still worth reading, particularly if you're a fan of Austen's other works.
Review by BeeQuiet
16/06/2015
If I ever hear another word about the suitability of a particular person for marriage, it will be too soon. Yes, I know it is social commentary, but it could have been done in 100 pages. The plot was entirely predictable and the characters were completely two-dimentional.
Review by SimoneA
16/06/2015
This is probably my least favorite Jane Austen I have read so far. That is mainly because the main character is not a very sympathetic girl, who needs a good kick in the butt and a dose of self confidence. Actually, there are very little 'good' people in the book. However, I will not call this a bad book, because the characters are funny and well described; I can easily imagine them all. Overall, I enjoyed reading the book, and will probably read it again.
Review by jolerie
16/06/2015
Fanny Price is adopted from a life of lowly social standing and is taken to Mansfield Park to be fostered by her two aunts, Mrs Norris, Lady Bertram, and her uncle, Sir Thomas. Life could have have dealt her a more fortunate hand as she is enjoys a life of dinner parties, domestic peace, and liberties that she would have never possessed should she had remained at home, being the eldest daughter of a oblivious father, an overwhelmed mother, and a brood of raucous brothers and sisters. Beyond and above inheriting a priviledged life, Fanny finds her soul mate, in every aspect a perfect match to her sense of righteousness and moral principles. But that journey to matrimonial bliss is blighted and obstructed by numerous events and persons until its eventual and predicatable resolution, as is common in Austen's works. Mansfield Park is only the third book of Austen's work that I have ever read. There many criticisms that it does not follow the usual light hearted themes that Jane Austen typically employs as it seems like Mansfield Park deals with a more serious theme of marriage and adultery. But in my opinion, when you put aside the frills and gimmicks, the stories are pretty similar, although the personalities of the characters are varied - boy and girl doesn't seem to stand a chance of making it work and then within the last chapter of the story, somehow everything magically and wonderfully works itself out. And of course lets not forget the annoying relatives that almost always get in the way with their endless chatter and meddlesome ways.As with most of the classics that I read, I always find myself having a hard time identifying with the characters. I am not entirely sure if it is because of the difference between our society now and the world that the author creates or the sheer unbelievability of the characters actions and choices, but Fanny Price and her host of friends and family in Mansfield Park sadly falls into the same predicament. Overall I enjoyed Mansfield Park as much as I would enjoy any other classics, but in terms of captivating me as a reader, I would say that it missed the mark.
Also in the Wordsworth Classics series | View all