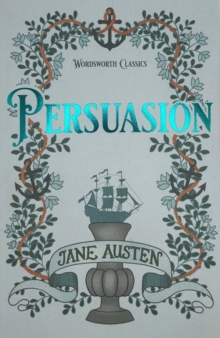 Description
Introduction and Notes by Elaine Jordan, Reader in Literature, University of Essex. What does persuasion mean - a firm belief, or the action of persuading someone to think something else?
Anne Elliot is one of Austen's quietest heroines, but also one of the strongest and the most open to change.
She lives at the time of the Napoleonic wars, a time of accident, adventure, the making of new fortunes and alliances. A woman of no importance, she manoeuvres in her restricted circumstances as her long-time love Captain Wentworth did in the wars.
Even though she is nearly thirty, well past the sell-by bloom of youth, Austen makes her win out for herself and for others like herself, in a regenerated society.
Information
Format: Paperback
Pages: 224 pages
Publisher: Wordsworth Editions Ltd
Publication Date: 05/06/1993
Category: Classic fiction (pre c 1945)
ISBN: 9781853260568
Other Formats
Paperback from £2.50
Hardback from £6.55
CD-Audio from £10.19
Leather / fine binding from £13.65
EPUB from £3.49
Mixed media product from £11.86
Free Home Delivery
on all orders
Pick up orders
from local bookshops
Reviews
Showing 1 - 5 of 5 reviews.
Review by Spirea
16/06/2015
I think this is my favourite Austen novel. There is something so romantic and appealing about the story of Anne and Wentworth. Getting back your lost love like that. But it's not too syrupy which such stories can often be.
Review by KendraRenee
16/06/2015
Jane Austen forever delights me with her frank critique of 19th-centural English society. That she can be so objective of the customs/attitudes she herself must've grown up with, really impresses me. Anyway, Persuasion is a very sweet story of the constancy of love, though the language makes it impossible to read at bedtime, when my brain is tired and only halfway engaged. All in all, a feel-good ending, a very well-written story = both big criteria for my permanent library, so this one's definitely staying on my shelf.
Review by BeeQuiet
16/06/2015
Having enjoyed Mansfield Park about as much as eating grass, I will admit I had no great hope for enjoying Persuasion much more. Still, I was advised that many people who don't like the former still like her other books - how lucky I was that this was indeed the case. Persuasion being the last book that Austen wrote before her death, I found that her writing style seemed to have developed, her characters attaining a little more depth, moving away from the incredibly simplistic moral stances of those held by the characters of Mansfield Park to.Miss Anne Elliot is the ignored and undervalued middle daughter of the baronet Sir Walter Elliot. Sir Walter and his other daughters provide the most obvious caricature of nineteenth century upper class society, being vain, self-obsessed, status-obsessed and oblivious to those matters which should really affect the heart of one morally grounded. This morally grounded influence comes naturally enough in the form of Anne, who is torn between the influence of various characters throughout the book, whilst remaining a great deal more self-confident, mindful of her own opinions, and strongly minded than the dreadfully limp Fanny Price of Austen's former work. Of course the book would not be complete without its love interest (which of course I will not spoil) and I found this too a great deal more satisfying than that of Mansfield. Persuasion finds Austen a more mature writer, more capable of exploring the ideas of morality, status and love that she is so dearly attached to. Nowhere is this more starkly apparent than in a small section of conversation between the protagonist and another character, in which Anne makes plain the enormous influence of male authors of the time in dictating the accepted differences between the sexes. I was delighted by the natural feel of this section of conversation and mindful of Austen being before her time in making such clear observations.Unfortunately, in spite of me enjoying this book so much more than Mansfield Park, I did find eerie similarities between many of the characters. Austen seemed to have become fixated upon certain archetypal essences of character and simply lifted them from one story to one not entirely dissimilar. I will refrain from explaining further whom I thought could represent whom for fear of spoiling the plot for those yet to read. However I would suggest that Persuasion seemed to be a fresh attempt at a previous story as opposed to something entirely distinct, simply due to the incredible similarity of theme and character disposition. As mentioned before, the substantive differences were enough to allow me to thoroughly enjoy this book where I had not the former, yet unfortunately not enough to entirely repair my opinion of Austen.
Review by Bduke
10/11/2015
I love this book! It is my favorite Austen love story. I can never decide what Jane Austen book is my all-time favorite (it seems to change every time I re-read one), but Anne Elliot and Captain Wentworth are by far my favorite couple. I love them both, and love their story. I will continue re-reading this with love and pleasure for the rest of my life
Review by varwenea
16/06/2015
Persuasion, Jane Austen's last completed novel, takes the reader to a later time, both in the age of her heroine - Anne Elliot, and in the reflection of the British era. The 'older' age of Anne at 27 is a gift to herself and those around her, wishing them a chance for a second spring and perhaps a second love. In the book, references to "destroyed her youth and bloom" and "lost her bloom" peppered Anne and other women. As for the British era, there is a recognition of wealth beyond old money, that the rise of the nouveau riche, such as those from the Navy, was upon the barons and the 'titled'. The old money mocks at the coarseness of the new, and yet the old money (literally) does not last forever either, spending irresponsibly (such as Anne's father, Sir Walter) and the necessity of putting up a front (such as renting out their estate and not being able to throw a dinner party as the insufficient number of servants would reveal their true situation). While the book explores thematically, the concept of being persuaded and the act of persuading, it was Jane's brother who chose the title 'Persuasion', after Jane's untimely death at the age of 41 in August 1817. Jane had indeed expressed concerns over the limitations offered to women, and the fact that women are persuaded to make decision as opposed to deciding for themselves. Jane was a pioneer feminist of her times. Bravo! When the novel begin, the sweet, young 19 year old Anne had broken off her engagement from an up-and-coming, ambitious young naval officer, Frederick Wentworth – after being persuaded by her father, sister, and most importantly, her friend and mother-figure, Lady Russell. Eight and a half years later, the now Captain Wentworth (and wealthy) is back in Anne's circle. The two, through coincidences, misconnections and reconnections, find their way back to each other. For both, their love for each other had been constant – and it is this constancy theme that finally ignited Wentworth to the possibility that Anne's love for him still existed. I was but only 30 pages into the book that I declared I like Anne. Kind, observant, smart, learned, thoughtful, eloquent, willing to assist, pretty but coy/shy, values friendship, natural born leader, loved by those around her even if neglected and used by her own kin, and perseveres through situations that were unkind to her. (Perhaps because these are traits I value for myself.) Jane created a quiet heroine who accepts her place in the world, but is smart enough to work within these confines and achieves what she desires nonetheless, such as visiting an old school friend who have fallen on hard times even though her father disapproves of Anne going to her undesirable neighborhood, and ultimately choosing her love. Her virtue with her friend was unexpectedly rewarded when this same friend revealed important information about a cousin's past. Persuasion had initially felt a little monotone to me, as I waited (impatiently) for the inevitable to happen (love reunited). But in retrospect, I pleasured over Jane's delicious 'old English' writings, Anne's journey to love that is mature and refined, and Anne as a 'person'. This is a book that either you will love or it's meh. Some quotes:I love this sentence in a paragraph where Anne concludes that just because her own household is overwhelmed with the renting of Kellynch Hall and moving to Bath, nobody else cares (or gives a rip):"… she believed that she must now submit to feel that another lesson, in the art of knowing our own nothingness beyond our own circle, was become necessary for her…" The practical purpose of marriage – in finding the right woman. Oddly, I find this rather logical:"… Anne could believe, with Lady Russell, that a more equal match might have greatly improved him; and that a woman of real understanding might have given more consequence to his character, and more usefulness, rationality, and elegance to his habits and pursuits. As it was he did nothing with much zeal, but sport; and his time was otherwise trifled away, without benefit from books, or anything else…"Admiration from a passing gentleman – checking out Anne – in old English style:"… Anne's face caught his eye, and he looked at her with a degree of earnest admiration which she could not be insensible of. She was looking remarkably well; her very regular, very pretty features, having the bloom and freshness of youth restored by the fine wind which had been blowing on her complexion, and by the animation of eye which it had also produced. It was evident that the gentleman (completely a gentleman in manner), admired her exceedingly."More delightful old English language treats:Polite (=useless) chatting = "…neither of them, probably, much the wiser for what they heard…"Walking in the rain = "… 'But it rains.' 'Oh! Very little. Nothing that I regard.'…"Coming back late = "He came in with eagerness, appeared to see and think only of her, apologized for his stay, was grieved to have kept her waiting…"Anne briefly lamented over not having the same warmth from her family than from others. I've always found it a touch sad that one finds more 'family' from friends than their own family:"… It was a heartiness, and a warmth, and sincerity which Anne delighted in the more from the sad want of such blessings at home…"The sweet Anne, finding her love at last – this sentence was simply charming:"Anne was tenderness itself, and she had the full worth of it in Captain Wentworth's affection."Last but not least – the Pièce de résistance:Captain Wentworth presents Anne with this letter, hastily written but flooded with his love. Any woman will swoon with these words, even if it means waiting eight and a half years.~~My love – Can I persuade you to return to me after eight and a half years when your affairs are settled?~~"I can listen no longer in silence. I must speak to you by such means as are within my reach. You pierce my soul. I am half agony, half hope. Tell me not that I am too late, that such precious feelings are gone forever. I offer myself to you again with a heart even more your own than when you almost broke it eight years and a half ago. Dare not say that man forgets sooner than woman, that his love has an earlier death. I loved none but you. Unjust I may have been, weak and resentful I have been, but never inconstant. You alone have brought me to Bath. For you alone I think and plan. – Have you not seen this? Can you fail to have understood my wishes? – I had not waited even these ten days, could I have read your feelings, as I think you must have penetrated mine. I can hardly write. I am every instant hearing something which overpowers me. You sink your voice, but I can distinguish the tones of that voice, when they would be lost on others. – Too good, too excellent creature! You do us justice indeed. You do believe that there is true attachment and constancy among men. Believe it to be most fervent, most deviating in… FWI must go, uncertain of my fate; but I shall return hither, or follow your party, as soon as possible. A word, a look will be enough to decide whether I enter your father's house this evening."
Also in the Wordsworth Classics series | View all