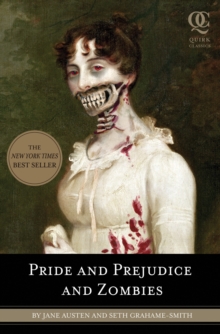 Pride And Prejudice And Zombies
Paperback
Description
"Pride and Prejudice and Zombies" features the original text of Jane Austen's beloved novel with all-new scenes of bone crunching zombie action.
Information
Format: Paperback
Pages: 320 pages, 20 illustrations
Publisher: Quirk Books
Publication Date: 01/04/2009
Category: Horror & ghost stories
ISBN: 9781594743344
Other Formats
Paperback from £7.95
Hardback from £16.69
Free Home Delivery
on all orders
Pick up orders
from local bookshops
Reviews
Showing 1 - 5 of 185 reviews.
Previous | Next
Review by alana_leigh
16/06/2015
Since I am known by my friends as a Jane Austen person, SEVENTEEN different people sent me the link to this publishing announcement. Even though the book won't be published for another two months, a friend managed to procure an advanced copy (aka Word doc of the finished product), and so I read it over the weekend.That being said, it's rather unnecessary for anyone to read this novel in its entirety, even if it does sound amusing. The best plan is to read the first two or three chapters, and then call it a day. You'll get the point and you won't be missing much. (Actually, you'll get everything you need, because Chapter 3 will include a ball and a zombie battle.)It really is a clever idea -- maintaining the actual text of Pride and Prejudice and simply inserting another storyline... one that just happens to involve zombies overrunning England so that the upper classes (men and often women) are sent to Japan or China to be trained in deadly arts so as to combat the unfortunately afflicted. But it's a funny joke that gets old very very fast. The first few chapters had me giggling as a result of the novelty. The exact P&P text with small insertions or minor dialogue alterations... it is a funny idea, even I must admit. But that's where it ends. Nothing truly unique was done with the story beyond some small revenges on irritating and wicked characters that didn't receive what was coming to them in the real novel. For the sake of maintaining as much of the original text as possible, Pride and Prejudice and Zombies runs exactly the same course as Pride and Prejudice.SPOILERS after this point, but really, admit to yourself that you're not actually going to read this. You'll chuckle over the cover (which is the best part of the whole thing) when you look at it in the bookstore, and then you'll set it down. We're in a recession. You're not seriously going to purchase this novel when there's so much else out there to be read?I suppose that is my biggest qualm with the novel. If it was going to do something truly interesting, the plot would have needed to change a bit. I suppose it was unrealistic for Darcy or Elizabeth to die, but there are so few casualties that it's really quite disappointing. I was expecting to at least lose one Bennet sister (Kitty could have been eaten or Mary could die in a blaze of glory). Even Grahame-Smith alludes to this desire at one point, where Elizabeth fantasizes decapitating Lydia in a carriage. But there's no follow-through! The only losses we experience are of Charlotte (who is afflicted with the zombie plague) and Mr. Collins (who hangs himself in unexpected and rather uncharacteristic grief). Wickham is crippled (by Darcy, which is nice) and he's sent off to a seminary for the lame in Ireland with Lydia. I had actually been hoping that Wickham would be a slowly changing zombie and that he'd make an attempt to eat Elizabeth's brains, or that his taking Lydia away was a ruse to feast on her brains, too -- or better yet, that the terrible thing he had done to Georgiana Darcy was to try and elope with her and end up being a coward in battle to the point where she was bitten by a zombie and lost a limb to it or something. Nope. Sorry. Not nearly so interesting. I would never expect me to say this, but there was just too much Pride and Prejudice in here -- the author was unwilling to deviate from the novel enough to create something interesting that could stand on its own as a ridiculously funny Austenuation. Ah well.In the end, it's a clever idea, but that is all. I'm pleased that someone brought the idea into being, but I'm not sure it merited a full novel. A short excerpt in a magazine would have been sufficient rather than the entire creation -- such as a fake book review and excerpt in something like Believer where you could have read a few chapters and then seen a summary.
Review by Sararush
16/06/2015
The Pride and Prejudice we all know has been re-imagined. England is over run with brain lusting Zombies. Elizabeth and her sisters are trained and practiced in the deadly art of Zombie slaying. Elizabeth's best friend has been stricken with the "strange plague". And a true gentleman beheads the Zombies for his lady, so that she will not soil her dress. Without offending die hard Jane Austen fans, maybe Pride and Prejudice should have always had a Zombie element. The Zombies contrast our characters so nicely that they manage to make the sarcasm funnier, the villains more disgusting, and the story even more dramatic. It's like classic literature in high definition. For instance, when propping Lydia, Mrs. Bennett or Wickham next to hordes of Zombies, the reader does briefly wonder who is viler.Seth Grahame-Smith's ingenious idea for a lethal mix of classic Austen text with Zombie references and battles spawns pure entertainment. This re-telling is obviously deliciously over the top. Here's a taste: "But the presence of a woman who had slain ninety dreadfuls with nothing more than a rain soaked envelope was an intimidating prospect indeed". And my favorite quote, "Elizabeth and Darcy happened upon a herd of unmentionables…crawling on their hands and knees, biting into ripe heads of cauliflower, which they had mistaken for stray brains". This edition also contains illustrations detailing the action and adding to its charming ludicrousness. I plan on gifting this to everyone. What a sneaky way to get my teenage brother to appreciate some classic literature. Literary types and Zombie lovers alike should appreciate the spirit of this reinvention, if they don't relish every word. I have never read anything like it, so I'm officially begging for a series of classic literature injected with Zombie mayhem.
Review by lmichet
16/06/2015
So. I've done it at last. I have actually read a book called 'Pride and Prejudice and Zombies.' Am I better for it?Yes and no, really. The bits that are zombified are pretty funny, but there's not enough of them, and near the end of the book-- the time when Elizabeth spends about a hundred pages moping and being in emotional agony over her guilty behaviours of the past-- THAT got tedious pretty quick, because there were practically zero zombies there, and I've read the zombie-free version of the book so many times that none of it was a surprise.That's the problem with this kind of prank. And I'll call it a prank, yes, because that's basically what it is. It can only work if the added bits are SO plentiful and SO over-the-top that the reader is utterly astonished. Here and there it goes over the top, yes, but not far enough. As I said, the end is practically zombie-free. A good step that Seth Grahme-Smith took TOWARDS excellence was his decision to make the Bennet family, Darcy, and Lady Catherine all NINJAS, but there was not enough nija awesomeness versus zombies. All in all, because I approached the book with an eagerness to see the DIFFERENCES in the text, not the similarities to the original, the overall deficit of differences made me impatient and slightly bored.Now, he MENTIONS zombies or ninjas on practically every page, but the number of original scenes-- the number of substantial changes, of paragraphs added or subtracted or totally transformed, is lower than the threshold of captivation. They're everywhere, yes, they're just not ENOUGH of everywhere.So, that's my verdict on this book. I'd suggest it as a casual joke gift-item, certainly, and if you're a real fan of zombies or of Austen's work you'll get a kick out of it, but I wouldn't suggest that anyone try to read the book ALL the way through if they don't want to. It can get a little tiring. Otherwise: fantastic idea that could have done with a bit of a betterexecution.
Review by Shuffy2
16/06/2015
OK so I thought it sounded a like a funny idea and actually excited to read it. At first I had a hard time getting into it but once I settled in it was not so bad. Not as great as I was expecting but still decent. I'll give anything Austen a try, will I read it again- probably not but I'm glad it's a part of my Anything Austen collection. Don't expect to be blown away but worth a read for Austen Fans (even if you get to say you hated it!)
Review by ParadigmTree
16/06/2015
This book answers the age old question of how you can improve on a masterpiece... just add zombies! Okay, that's a bit of a lie, as this certainly can't beat the original, however it is the fun and quirky result of an (admittedly) gimicky idea. If you are wanting to reread Pride & Prejudice with an amusing twist, then this is the book for you (85% of the text is from the original). Or, if you wish to introduce a reluctant reader to classic literature, then this could also fit the bill. Fun, saucy, and zombified!