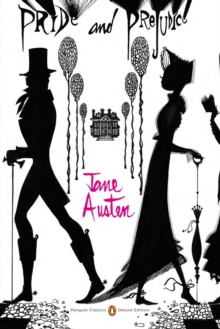 Pride and Prejudice : Penguin Classics Deluxe Edition
Paperback
Description
'Vanity, not love, has been my folly'When Elizabeth Bennet first meets eligible bachelor Fitzwilliam Darcy, she thinks him arrogant and conceited; he is indifferent to her good looks and lively mind.
When she later discovers that Darcy has involved himself in the troubled relationship between his friend Bingley and her beloved sister Jane, she is determined to dislike him more than ever.
In the sparkling comedy of manners that follows, Jane Austen shows the folly of judging by first impressions and superbly evokes the friendships, gossip and snobberies of provincial middle-class life.
Information
Format: Paperback
Pages: 352 pages
Publisher: Penguin Books Ltd
Publication Date: 01/08/2009
ISBN: 9780143105428
Free Home Delivery
on all orders
Pick up orders
from local bookshops
Reviews
Showing 1 - 2 of 2 reviews.
Review by classicmaiden
16/06/2015
Why did I <em>ever</em> wait so long to read this novel?<br/><br/>BUT I'm <em>so glad</em>, in some way, that I waited, because this was <em>truly</em> the right time for it - I was truly in the mood...<br/><br/>I did try to read it last year, but then I got such an urge to view the 1995 mini-series instead *blush* - a mini-series which I've had a tradition of viewing (almost) every year, since the later part of the 1990s. It also prompted me to watch all the other adaptations that has been done (incl. the 1940, 1980 and 2005 versions).<br/><br/>In many ways, this year was the right time, because the older writing style was not at all daunting for me, and to my surprise, the novel was easy-to-read and fast-paced... I can't believe it myself, but I guess having (finally!) become a voracious reader in my mid-twenties has <em>helped</em> - after having, instead, been a World Cinema (and TV-series) fan and collector most of my life; taking up most of my free time too! <br/><br/>... it was indeed time... <br/><br/>I'm enjoying discovering the literary classics, though the stories are (often) already familiar to me, through having watched film or TV-adaptations. But alas, I find it becomes a sort of strength in my understanding of the books, and indeed, it becomes easier for me to imagine certain settings, language usage, decorum and behavior (etc.). <br/><br/>I'm definitely planning on reading the other Jane Austen books... and I'm relieved and glad that I can now say with heart that she has become a favorite author... I already want to re-read Pride and Prejudice lol.<br/><br/>Some people may call Jane Austen overrated, but I find that she is a wonderful writer and I enjoy her style of writing exceedingly... she captures what was for her a contemporary time, so effortlessly, without describing much in detail, but leaves much to the imagination for the reader, which is, to me, her strength as a writer... for others, it may be the very reason why they do not read her; it can be hard to imagine the Regency period for modern readers. In that case, I recommend checking out the Film and TV adaptations first, because it gives you the look and feel of the times in which Jane Austen lived... it helped me enormously, at least.
Review by sturlington
16/06/2015
Who is not familiar with the plot of Austen's best-known novel? The headstrong Elizabeth Bennett meets the prideful Mr. Darcy, he forms prejudices against her family, she forms prejudices against him, but he still falls in love with her. He then shows her his true character, and she falls in love with him, and at the end, there is a wedding, of course.This was my second reading of Pride and Prejudice - the first was in high school, I believe - but even if you are familiar with the story only from the numerous film versions, the book is worth a read. The most interesting character is the one the movies often gloss over: Mr. Bennett, Elizabeth's father. Indeed, he represents the theme of the novel: the folly of an ill-chosen marriage. He has no respect for his wife, admits he squandered his income and thus put his five daughters at risk for poverty, and retreats from his life to his library whenever possible. Next to Mr. Darcy and even his own brother-in-law, Mr. Bennett is an ineffectual man, brought down by his own poor decisions. His one fear is that Elizabeth will follow the same path. Of course, she does not, and is rewarded with both bliss and riches.<I>First read as a teen (1980s); reread in 2007.</i>