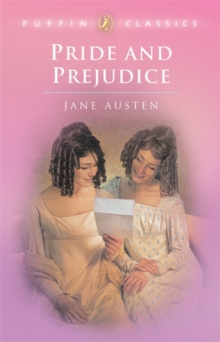 Pride and Prejudice
Paperback
Description
Mr and Mrs Bennet live with their five daughters. Jane, the eldest daughter, falls in love with Charles Bingley, a rich batchelor who takes a house nearby with his two sisters and friend, Fitzwilliam Darcy.
Darcy is attracted to the second daugher, Elizabeth, but a bad account of him is given to Elizabeth.
He and Bingley's effect the separation of Bingley and Jane.
William Collins, cousin to the sisters and as only male, heir to the Bennet estate, proposes to Elizabeth but is rejected.
Darcy proposes to Elizabeth but she refuses. When Elizabeth travels north she is invited with friends to Darcy's place in Berbyshire, and thinking Darcy is absent she goes.
However, he is there and she is surprised by his much-improved manners.
She hears news that her sister Lydia has eloped with Wickham, an unprincipled adventurer.
With Darcy's help the fugitives are found. The attachment between Bingley and Jane is renewed and leads to an engagement.
In spite of the insolent intervention of Lady Catherine, Darcy and Elizabeth become engaged.
Information
Format: Paperback
Pages: 384 pages
Publisher: Penguin Books Ltd
Publication Date: 29/06/1995
Category: Classic
ISBN: 9780140373370
Other Formats
Paperback from £2.50
Hardback from £6.59
CD-Audio from £11.05
Free Home Delivery
on all orders
Pick up orders
from local bookshops
Reviews
Showing 1 - 4 of 4 reviews.
Review by AnnB2013
16/06/2015
For some reason before I read this book, it had never occurred to me that people had a sense of humour in 1813. Helped me to understand my place in the grand scheme of things. A revelation AND funny -- it's hard to top that.
Review by MaggieFlo
16/06/2015
It took me a while to get used to the extremely long dialogues but once I did, I quite enjoyed the story.Five Bennet sisters and their love lives in a very good if not a trifle long story. In particular, fitzwilliam Darcy's subtle pursuit of Elizabeth Bennet is amusing. Social mores and customs are well described and the privileged life of the gentry is fascinating
Review by Daye
16/06/2015
I was inspired to read it after watching the film. I think it is a wonderful satire on the social customs of the time. The novel displays Austen's sharp mind through all the characters.I also found the dialogue witty and intelligent.
Review by Xleptodactylous
16/06/2015
Having never seen an adaptation of Pride and Prejudice but knowing the story almost completely through conversation and the media, my first impression of the book has always been based upon preconcieved images. The first thing that springs to mind would be good old Mr. Darcy - the handsome rogue who sweeps people off their feet and makes them swoon. Despite this idea that is floating around in the real world, I was not at all disappointed when I read the book: it was a refreshing entry into the Austen world and I would recommend anyone start with this book if they are keen on giving Austen a go.<br/><br/>My very first Austen book I have read is 'Emma', which is suitably similar in storyline and plot, but the directions that Austen takes you makes them perfectly acceptable as different. They are beautifully styled as you would expect any 19th Century novel to be, particular so since it was written by a female writer, and you can clearly tell with the fluent way it is written. Saying this, there are similarities between other 19th Century writers, such as Elizabeth Gaskell, but Austen's polite and gentle hand is clearly marked in both Pride and Prejudice and Emma, with the comforting humour that leaks out through the pages, though is not altogether too strong for the type of book that it is.