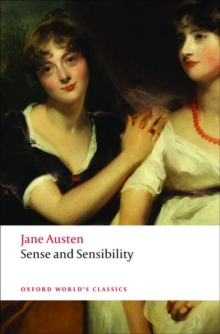 Sense and Sensibility
Paperback
Description
"Pray, pray be composed," cried Elinor, "and do not betray what you feel to every body present. Perhaps he has not observed you yet." For Elinor Dashwood, sensible and sensitive, and her romantic, impetuous younger sister Marianne, the prospect of marrying the men they love appears remote. In a world ruled by money and self-interest, the Dashwood sisters have neither fortune nor connections. Concerned for others and for social proprieties, Elinor is ill-equipped to compete with self-centred fortune-hunters like Lucy Steele, whilst Marianne's unswerving belief in the truth of her own feelings makes her more dangerously susceptible to the designs of unscrupulous men.
Through her heroines' parallel experiences of love, loss, and hope, Jane Austen offers a powerful analysis of the ways in which women's lives were shaped by the claustrophobic society in which they had to survive.
ABOUT THE SERIES: For over 100 years Oxford World's Classics has made available the widest range of literature from around the globe. Each affordable volume reflects Oxford's commitment to scholarship, providing the most accurate text plus a wealth of other valuable features, including expert introductions by leading authorities, helpful notes to clarify the text, up-to-date bibliographies for further study, and much more.
Other Formats
Paperback from £2.50
Hardback from £7.95
CD-Audio from £11.39
EPUB from £0.99
Free Home Delivery
on all orders
Pick up orders
from local bookshops
Reviews
Showing 1 - 5 of 5 reviews.
Review by michdubb
16/06/2015
Surprisingly funny and witty.
Review by readingwithtea
16/06/2015
The tale of two sisters - the elder (Elinor) is very sensible, rational, not prone to great tides of emotion, while the younger (Marianne) is much more melodramatic, given to those classic period-drama swoons and faintings - and their misadventures in love. Of course there is a complicated family situation, evil sisters-in-law, conniving rivals, fickle suitors... all the classic elements, as well as a happy ending. Austen has a very impressive skill for constructing romantic cliff-hangers.What impressed me (and I do not remember being impressed by this in Pride & Prejudice when I read it seven years ago) were the beautiful turns of phrase. "The shades of his mind" and "truth was less violently outraged than usual" were my favourites, along with "she did not think he deserved the compliment of rational opposition"! I also took great delight at the eventual fate of the main villain - really the only end for him, but unexpected when it came. Austen's lampooning of the insipid, rude, selfish bystanders among the characters is also distinctly enjoyable.I have my objections too. Elinor's sense apparently prevents her from ever suffering any outburts of emotion, well beyond the limits of the patience of anyone I know! Tempestuous Marianne suffers physically several times (a sprained ankle and a number of colds), while Elinor apparently has one of those miraculously healthy constitutions. Marianne has a relevation post-illness and repents of her former ways, and pre-revelation is just a bit too... dramatic. Like an opera diva. In addition, the speeches (particularly between the sisters) come across as overly lengthy, oratorial and therefore somewhat out of place. Maybe I am doing Austen an injustice and sisters really did speak like that once.By the way, I should mention I was reading a Folio Edition - beautiful red cloth spine and illustrations. And surprisingly, quite well designed for reading as well as just looking at!
Review by wamser
16/06/2015
Wonderfully written, with terrific insights as to human nature. Better with each reading.
Review by BookAngel_a
16/06/2015
Recently I read Austen's 'juvenalia', and when I started reading this book, I could see a lot of similarities. The beginning of S&S has a tone of satire. The reader can tell Jane is a young writer, mocking many of society's views which were common at the time.However, as the story progresses, I began to see Jane getting more serious about her subject and caring about her characters. That was when I began to love this book. And it just got better and better toward the end.On a personal note, I found some similarities to my own life in this book. When I was young and in love for the first time, I acted a bit like Marianne, wearing my heart on my sleeve. I think many of us probably did. I loved this book and gave it 4 stars - but you can see how I might be a biased reader.Some of Austen's other books are definitely a little better, but this is also a good book. It's amazing to me that hundreds of years can pass, and a modern reader like me can still identify with these characters.
Review by JBD1
16/06/2015
I hadn't read much Austen at all since a much-abridged P&P when I was probably in late elementary school. After looking through a book on cover designs for Austen's works I decided I really ought to try her again, and settled on this one first. I enjoyed it immensely, and will certainly be back for me. Some excellent humor and set pieces alongside a very interesting meditation on English "rural elite" society and its strictures.
Also in the Oxford World's Classics series | View all