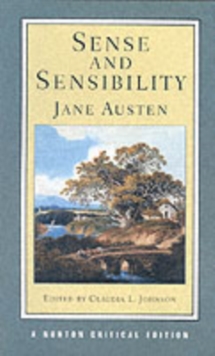 Sense and Sensibility
Paperback
Description
The text is that of the 1813 Second Edition (the origins of which can be traced back to 1795).
The text is fully annotated and is accompanied by a map of nineteenth-century England. "Contexts" explores the personal and social issues that loom large in Austen's novel: sense, sensibility, self-control, judgment, romantic attachments, family, and inheritance.
Included are writings by Adam Smith, Samuel Johnson, Edmund Burke, Thomas Paine, Mary Wollstonecraft, Hannah Moore, and Maria Edgeworth. "Criticism" collects six early and twelve modern assessments of the novel.
Contributors include Alice Meynell, Reginald Farrer, Jan Fergus, Raymond Williams, Marilyn Butler, Mary Povey, Claudia L.
Johnson, Gene Ruoff, Patricia Meyer Spacks, Isobel Armstrong, Mary Favret, Deidre Shauna Lynch, Eve Sedgwick, and Deborah Kaplan. A Chronology and a Selected Bibliography are included.
Other Formats
Paperback from £2.50
Hardback from £7.95
CD-Audio from £11.39
EPUB from £0.99
Free Home Delivery
on all orders
Pick up orders
from local bookshops
Reviews
Showing 1 - 5 of 5 reviews.
Review by rockabillymomma
16/06/2015
This is a must have. I really enjoy the book and I enjoyed the movie as well and it's one of those books I could never get tired of reading.
Review by AnnieMod
16/06/2015
Book #1 in my current project: "Read the classics again... the Norton way".This is a review of the Norton Critical Edition of "Sense and Sensibility", First Edition. So it will contain not just my thought on the novel but also of the other pieces in the book that make the whole work.<b>The Novel:</b>I won't be summarizing the plot - this review is more a note about my thought about the book. It is as spoiler free as possible but I need some spoilers to explain my thoughts... For most people "Sense and Sensibility" is one of the weakest novels that Austen created. I had never shared that opinion - when I read it back in high school, it became my favorite novel and to this day it is my favorite of the Austen novels. I never reread it though - I was afraid that the magic will be gone. As it turned out - it had not. This is the novel that contains the most likable male protagonist - Colonel Brandon. It also contains my favorite of Austen's heroines - Elinor. As unconventional as this might sound, it is not an attempt to be original or to be different from all the fans of the more conventional pairs from the later novels. Colonel Brandon is the only positive male character in the whole novel - Edward is even worse than Willoughby in some ways - Willoughby at least admits freely what he had been doing by the end of the book while Edward claims that it had not been his fault. The Colonel remains sincere... and he is ready to step away without revealing what he knows of his opponent (and what he knows is damaging enough) in the name of the woman he loves. Add to that his history - his lost love and her daughter - and the fact that he is the only one in the book who had done something that is not-selfish (being a soldier and helping both Elizas) and he emerges as almost a too good to be believed characters. Maybe that is the reason why Austen makes him suffering from some ailments... but even with them, he is much more superior than Edward and Willoughby.And then come the heroines - Elinor and Marianne. Even though it looks like Marianne is the one that suffers and looses everything, she is the one that wins the biggest prize. Yes - her dreams are shattered, her heart is broken but she still have the love of the Colonel. Through the years almost all critics had said that this marriage is more a punishment than a happy ending; I am not so sure about that. And Elinor persists and finds a way to forgive the man she loves. Is that a conventional romantic novel? No. Is it a realistic one? I would say yes. And that's what makes it different (and not so liked by everyone) I suspect. <b>The additional materials and the editing:</b>1. The Introduction I've always hated introductions. There is very little number of editors that can write a good introduction. This one fails on so many levels. If you are coming to this edition after having read all Austen works before that, it works. If you are reading the novel for the first time or if you had not read her other novels - you will get confused from all the references... and not really happy from the explanations about the characters in the book you are about to read. At the same time it lacks any background for the novel or an attempt to make a reader understand the world of the early 19th century. The introduction is a fine critical piece but being passed as an introduction is not what should have been done. What it contains though is an explanation of the text and the edition process - and that was fairly interesting and useful for reading this edition. 2. The editing. When a scholar of a given topic is editing a novel about it, there is always the chance that they will make a note about something that the reader have no reason to know yet - simply because seeing the novel as a novelty, as a new reader is not that easy. Thankfully it happened only once when the editor explains that the edit from Austen had been not to draw attention to the fact that two characters can be mistaken for one another. The problem is that anyone that knows the end of the novel can see why that is done... but if someone reads the novel for the first time and remember that note, they will see through one of the later events in the book very easily... and loose part of the magic of the moment when everything is revealed. So why the whole note? It makes no sense for either group of readers.3. ContextsI actually liked these bits and pieces from other authors' writings. And while the more non-fiction (and fiction that looks like non-fiction) ones were informative if a bit repeating, the passages from Maria Edgeworth's books made me think of trying to find and read at least one of them. 4. CriticismStudies of the novel itself, studies of its ideas, reviews - all that arranged chronologically and in small bits - the only thing I sorry about is that some of these were not longer (but then they all contained their references so I can always try to find the full books). I disagreed with a few of the critics but I can see why they make their point. The one piece that I wish was not reprinted (again) is "Jane Austen and the Masturbating Girl" - I disliked it as much as I did the first time I've read it... and I still believe that the whole premise of the article is wrong and is misreading some situations. But everyone has the right to have their opinion.
Review by ashleymcquirk
16/06/2015
In my Jane Austen class, this has been my favorite Austen novel so far (we've read all but Northanger Abbey and Persuasion). I love the relationship between the sisters and I love that they both learn from each other before they can have their respective marriages. The storyline is intriguing and the minor characters each add their own little spice and humor to the story (Mrs. Jennings is my favorite I think). It is really just a charming story, it definitely has some scandal which makes the story that much better. I just love stories that have something to learn, and in this story I learned that it's not practical to be too emotional nor to be too emotionless. Willoughby is the worst male in the Austen novels I have read so far. I also love the cattiness between Elinor and Lucy. Colonel Brandon is not all that exciting to me but I do respect him the most because he is constant and never pretending as the other characters in the novel tend to be. I like Edward in this novel and I appreciate his constancy in his engagement despite how awful she turns out to be. As a side note, the 2007 (might be 2008) BBC version of this story is the best!!
Review by ljldml
16/06/2015
This is my all time favorite book. I find myself relating to Elinor in just about every way. She is my favorite character in this classic novel. No one can compare to Jane Austen!
Review by est-lm
16/06/2015
Sense and Sensibility is for those who don't mind a novel similar to Pride and Prejudice yet very different in terms of the characters; there is a morally ambiguous but attractive young suitor, two very different sisters, many misunderstandings, and of course the goal of financial stability through an at least tolerable marriage. But unlike in Pride and Prejudice, the main points of comparison are two sisters rather than two people destined to fall in love. The two eldest Dashwood sisters are two sides of the same coin and though they may not know it, struggle together to find a happy medium between - Sense and Sensibility. Marianne is the romantic, the spontaneous, the transparent one with her heart always on her sleeve, and Eleanor is the more sensible one, more reserved, and strives to use her logic more than her heart. I really enjoy how Austen often uses foils to compare different situations, placing all possible situations next to each other for the reader to pass judgment on their virtues and defects. <br/><br/>This one is one of my favorite Jane Austen novels. There are instances of wit and fun and holds its fair share of heartbreak. If you are an Austen fan, keep on reading her novels. If you haven't read any before, this is a good place to start. <br/><br/>
Also in the Norton Critical Editions series | View all