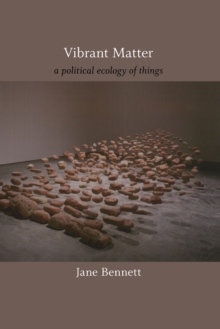 Vibrant Matter : A Political Ecology of Things
Paperback
Description
In Vibrant Matter the political theorist Jane Bennett, renowned for her work on nature, ethics, and affect, shifts her focus from the human experience of things to things themselves.
Bennett argues that political theory needs to do a better job of recognizing the active participation of nonhuman forces in events.
Toward that end, she theorizes a "vital materiality" that runs through and across bodies, both human and nonhuman.
Bennett explores how political analyses of public events might change were we to acknowledge that agency always emerges as the effect of ad hoc configurations of human and nonhuman forces.
She suggests that recognizing that agency is distributed this way, and is not solely the province of humans, might spur the cultivation of a more responsible, ecologically sound politics: a politics less devoted to blaming and condemning individuals than to discerning the web of forces affecting situations and events.Bennett examines the political and theoretical implications of vital materialism through extended discussions of commonplace things and physical phenomena including stem cells, fish oils, electricity, metal, and trash.
She reflects on the vital power of material formations such as landfills, which generate lively streams of chemicals, and omega-3 fatty acids, which can transform brain chemistry and mood.
Along the way, she engages with the concepts and claims of Spinoza, Nietzsche, Thoreau, Darwin, Adorno, and Deleuze, disclosing a long history of thinking about vibrant matter in Western philosophy, including attempts by Kant, Bergson, and the embryologist Hans Driesch to name the "vital force" inherent in material forms.
Bennett concludes by sketching the contours of a "green materialist" ecophilosophy.
Information
Format: Paperback
Pages: 200 pages
Publisher: Duke University Press
Publication Date: 04/01/2010
Category: Political science & theory
ISBN: 9780822346333
Free Home Delivery
on all orders
Pick up orders
from local bookshops
Reviews
Showing 1 - 3 of 3 reviews.
Review by amydross
16/06/2015
Some intriguing ideas raised about the way inanimate objects exert their own force in the world -- it put me in mind of the work of Joseph Beuys, but with neither his whimsy nor loopy conviction.Bennett starts with an interesting concept, but remains necessarily vague about what effects it might have, if any. Ultimately, the work here feels sort of negligible.
Review by veranasi
16/06/2015
I can't believe I put all my recreational reading on hold for this! Bennett has an interesting concept, but as so many others have/will note: there's nothing new and there's nothing here (outside of Bennett's grasp of philosophy) that you couldn't find in a New Ager's anthology. I don't think this book will shake political or philosophical foundations and it's a neat footnote, but has little value in anything that I am interested in. Some of it comes off as lazy, but Bennett did put a great deal of work into it. I think it serves as an example of the strange position that many academics in the humanities into which they are corralling themselves.<br/><br/>
Review by brleach
16/06/2015
An excellent primer on new materialisms/object-oriented ontologies and their relevance to political theory.
Also in the a John Hope Franklin Center Book series | View all