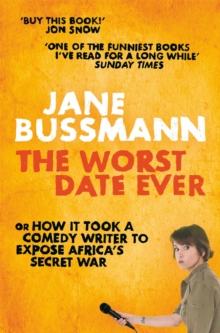 The Worst Date Ever : or How it Took a Comedy Writer to Expose Joseph Kony and Africa's Secret War
Paperback
Description
When scriptwriter Jane Bussmann (South Park, The Fast Show, Brass Eye and Smack the Pony) moved to Hollywood, it was supposed to be the start of something better.
But a day job interviewing Paris, Britney and Co. left her trapped in the Golden Age of Stupid. Then she saw a photograph of John Prendergast in Vanity Fair.
His day job was ending war. He was also extremely attractive. Jane 'may have inferred she was a Foreign Correspondent', because suddenly she found herself on route to Africa on the trail of this modern-day Indiana Jones.
There was one problem: when she got to Uganda John had left.
Alone in a war-torn country, appalled by 25,000 child abductions, Jane must investigate the war crime of the century - to make John fancy her.
Combining a maverick heroine, an idealist hero, comic disasters and moving tragedy, this is brilliant storytelling by a hugely talented writer. `Jane Bussmann's romantic odyssey from Hollywood to Uganda is the funniest thing we've ever read.' Instyle Hot List `a marvellously maverick approach to the investigation of war crimes.' Marie Claire Five Stars `Imagine The Last King of Scotland written by Shazzer from Bridget Jones's Diary, and you'd still only get halfway to appreciating Jane Bussmann's funny, incongruous and artlessly perceptive account... this is one of the funniest books I've read for a long while' The Sunday Times 'hilarious and heart-wrenching' The Spectator
Information
Format: Paperback
Pages: 384 pages
Publisher: Pan Macmillan
Publication Date: 01/03/2010
Category: Biography: general
ISBN: 9780330457651
Free Home Delivery
on all orders
Pick up orders
from local bookshops
Reviews
Showing 1 - 3 of 3 reviews.
Review by Jaylia3
16/06/2015
I decided that since I can't afford to actually travel right now I would give myself the illusion of visiting England by reading the London Times Literary Supplement--which though it's free online turned out to have a (slightly) negative impact on my bank balance. In it I found a review of this memoir, which made me wild to read it, but it won't be out in the US until 2010 meaning no way it's at my local library--I was forced to order it on Amazon UK. The author is a comedian The author is a comedian but there is some grim material in here and Bussman manages the amazing trick of being both tremendously funny and deadly serious at almost the same time.Bussman got tired of hanging around Hollywood during 2003-2006, which she calls the Golden Age of Stupid, interviewing (mostly useless) celebrities. She decides to radically change her life by following a peace negotiator (really cute--and very useful) to Uganda so she can write an article about him, but after scraping together the money for a plane ticket he doesn't show up. Not for a month or two anyway--he's now back in Hollywood. Bussman is left to kill time in a cheap Ugandan hostel, so she decides to try doing some investigative fieldwork while she waits for the chance to interview/date her negotiator. She teaches scriptwriting at an AIDs orphanage, meets numbed victims of the warlord Joseph Kony, and interviews anyone--even very scary people--who might be able to help her figure out why for 20 years the Ugandan army has not been able to prevent Kony from kidnapping children as young as four and forcing them to fight in his militia.Being a celebrity journalist isn't completely useless preparation for her adventures. Both smug Hollywood stars and menacing army colonels become friendly and helpful after she asks her two work-saving Magic Questions--"You're in amazing shape, what's your secret?" and "We all know what you're famous for, but how does it make you feel when you're not appreciated for your inner talents?"The peace negotiator eventually shows up, but the interview/date she hoped for doesn't work out the way she planned. The resulting book, however, is a great success. The risks she took, and her mind-blowing accounts of traipsing around Africa kept me reading into the wee hours of the night.
Review by AriadneAranea
16/06/2015
If you read the cover, you might be forgiven for thinking that this book is a hilarious ("the funniest book we've ever read") story of celebrities and, oh yes, something about a war or something... And Jane Bussman is a comedy writer, and she is funny - but that isn't what the book's about. It's about the civil war in Uganda, and the reasons why it's *still* going on over twenty years later - resulting in, among other atrocities, ongoing mass killings and rapes, and the kidnap and enslavement of any number of children - when the truth is it could be stopped right now if anybody in power really wanted it to. That was a really long sentence, but then it's a really stupid war, and it's being funded by my knicker tax, too.
Review by fieldnotes
16/06/2015
I purchased this book because Michella Wrong endorses it emphatically and because she is a lioness and a scholar with an incredible talent for writing about Africa. I had my doubts during the first seventy pages, wherein the humor has a fast looming expiration date because of how time-bound and referential it is. Suspecting that Bussmann would not have insider status in Uganda made it hard to believe that she could get the same traction with her jokes in a foreign context. Plus, it isn't easy to make the transition from massive stationary targets like Paris Hilton and Hollywood agents to the relatively unhilarious reality of abused Ugandan children and their sociopathic predators. My doubts, however, were never too serious because her most consistent target, in one of the world's better comic traditions, is herself. Bussmann, also quickly demonstrates that she has the tenacity and social intelligence to gain access in stressful East African circumstances, which frees her from having to take digs at herself for the whole book.Arriving in Africa for the first time with a tendency to self-deprecate paves the way for a worthwhile book, while arriving in Africa with a tendency to deprecate one's surroundings paves the way to infuriating trash (c.p. Jeffrey Tayler). Bussmann is refreshingly unoffensive in her posture towards Africa, which means that it is easy to recommend her without a bunch of caveats.I usually feel unkind recommending my favorite books about Africa (or novels from Africa) to my friends and family members who haven't lived in any of its countries. "The Worst Date Ever" is the only true exception. I could recommend this to a total one state redneck without worrying that he would develop any new unsavory prejudices (and without worrying that he would never finish it). Bussmann targets the people who deserve it and humanizes the people who don't, all while engaging her readers with the interwove sub-plot of her exaggerated crush on a notable globe-trotting humanitarian. This courtship cum desire to earn development cred was an extremely effective hook and kept her from seeming self-righteous or shmarmy.While I will not delve back into Bussmann's previous comic writings, I will look forward to anything else that she writes while traveling in difficult contexts. Save this book for a long airplane ride, for a time when you are sick or for whenever you need a good dose of someone else's good energy.
Also by Jane Bussmann