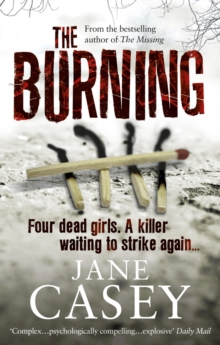 The Burning : (Maeve Kerrigan 1)
Paperback
Description
"Casey is a true craftswoman, a writer who beguiles one through the most twisted of plots with a confident and seductive hand." (Alex Marwood, bestselling author of Wicked Girls and The Killer Next Door). "Jane Casey is one of the brightest stars in the modern crime firmament". (John Connolly). "I love Maeve Kerrigan - what a terrific series Jane Casey has created". (Sarah Hilary, bestselling of author Someone Else's Skin). "Maeve is such a hugely warm character with just the right mix of vulnerable and feisty.
Will definitely be looking out more in the series". (Tammy Cohen, author of When She Was Bad). A serial killer who wants to watch you burn...The media call him The Burning Man, a brutal murderer who has beaten four young women to death, before setting their bodies ablaze in secluded areas of London's parks. And now the fifth victim has been found...Maeve Kerrigan is an ambitious detective constable, keen to make her mark on the murder task force.
Her male colleagues believe Maeve's empathy makes her weak, but the more she learns about the latest victim, Rebecca Haworth, from her grieving friends and family, the more determined Maeve becomes to bring her murderer to justice. But how do you catch a killer no one has seen? And when so much of the evidence they leave behind has gone up in smoke?
Information
Format: Paperback
Pages: 496 pages
Publisher: Ebury Publishing
Publication Date: 01/11/2010
Category: Crime & mystery
ISBN: 9780091936006
Free Home Delivery
on all orders
Pick up orders
from local bookshops
Reviews
Showing 1 - 5 of 6 reviews.
Previous | Next
Review by nicx27
16/06/2015
This is Jane Casey's second novel, the first being The Missing. I loved that one so was really looking forward to reading The Burning. The story centres around DC Maeve Kerrigan, who is part of a team investigating the 'Burning Man' murders. When a fifth victim is found, Maeve starts to dig deeper into her life. Mixed in with this is a narrative from the victim's best friend, and also Maeve's own personal life forms part of the story. Jane Casey is a very straightforward, easy to read, writer. She invents great characters and involves them in interesting and engrossing storylines. This is a relatively large book - around 485 pages, but I found myself racing through it, both because it was easy to read, and also because I wanted to find out 'whodunnit'. I understand her next book also features Maeve Kerrigan, and I'm very much looking forward to reading more from this author.
Review by johnbsheridan
16/06/2015
It took me a long time to read this as I kept putting it aside in favour of something else, longer than it needs to be, editing by about 25% would have made it tighter as there were some good sections but overall only passable.
Review by wyvernfriend
16/06/2015
When a fifth victim of the Burning Man is found something about it makes DC Maeve Kerrigan uneasy, she's not sure about it, it has many of the hallmarks of the Burning Man but it somehow just does't fit, this leads her down a path that asks many questions of her friends and family, questions that end up down a different path. Can she prove her suspicions? Is she barking up a wrong tree? Will they find the murderer or murderers?I like Maeve, she's an interesting character with depth and she's good at what she does. She deals with problems as best she can and everything isn't just easy for her. She works at her investigations and doesn't hesitate to question herself.It was a good read that kept me asking questions throughout. Maeve is nicely complex and her private life is also affected by her job, the hours, the fact that she works with men and many other stresses. She's a person I like and who can be brutally honest with herself about there being problems.This felt like a later book in a series, I assumed I had read this series before but this is the first book in the series. This wasn't a bad thing, I felt at home in the series quite quickly.
Review by Liz1564
16/06/2015
I enjoyed this police procedural/psychological thriller. Casey has created an appealing protagonist in Maeve Kerrigan, a police constable in London and the only woman on her squad investigating the serial murders of four young women whose savagely beaten bodies have been set afire in London parks. When Kerrigan examines the crime scene of the fifth victim she believes that it is not the work of the serial killer but of a copycat killer. Her boss chief Superintendent Godley gives her the go-ahead to follow her idea of an second murderer.Kerrigan correctly assumes that the key to the solution is to find out as much as she can about the fifth victim, Rebecca Haworth. As she peels away the layers of Rebecca's life she has to go back ten years to Oxford University and her involvement with another murdered student. Kerrigan slowly untangles Rebecca's relationship with her doting parents, university friends, colleagues and abusive boyfriend. I guessed the murderer fairly early on because the author plays very fair with the clues. But the thrust of the novel is not the puzzle of the crime as much as why the criminal murdered Rebecca.Well-written, realistic but not sensational, and with a cast of interesting believable characters, The Burning is a very satisfying read. I look forward to Casey's next novel.
Review by bsquaredinoz
16/06/2015
If I had a dollar for every time someone has made some variation on the "you must be twisted to read all those books about serial killers" remark I'd be a rich woman. Well, moderately wealthy anyway. The comment always makes me grind my teeth as I try to respond politely when what I really want to say is "you are a moron if you think that's all crime fiction is about". I avoid serial killer books with the same dedication as I avoid religious proselytisers and green peas and would not, therefore, have picked up this book (with its blurb and cover that all scream serial killer) if I hadn't been assured it wasn't really about a serial killer at all.<br/><br/>As the book opens we are indeed introduced to the presence of a serial killer in London. A drunk girl gets into a taxi but soon starts to feel something is wrong. The car isn't going in the right direction and there are other hints something is amiss…she has heard about the killer named by the media as The Burning Man who has killed four women and she worries that she is in the car with him. When DC Maeve Kerrigan is called out in the early hours of the morning to the resultant crime scene it appears the killer she and the large investigative team assigned to the case have been looking for has finally been caught red-handed. But then another body is found and it too appears to be a victim of the same killer. The DI in charge of the case is unsure enough about this victim's connection to the other cases to make sure that Maeve investigates the new case as independently as possible, though he doesn't reassign the case because if it should turn out to be another victim of 'their' killer he doesn't want there to be any legal problems with having had doubts about the case at all. This was one of the aspects of the story that made me feel quite sorry for the police and all the second guessing they must have to do and it made me wonder how often issues like this have a detrimental impact on real investigations.<br/><br/>All of that setup doesn't take very long at all and so readers soon leave behind the hunt for the serial killer and follow instead Maeve's investigation into the death of Rebecca Haworth who was an Oxford graduate and a successful PR woman. At this point we also meet Rebecca's best friend, Louise, and from this point onwards some chapters are told from her perspective which provides a nice contrast to the scenes which unfold from Maeve's point of view. Between the two we are slowly shown a picture of Rebecca that was a little different from first appearances and there does not seem to be a shortage of people who might have wanted her dead if she does indeed turn out not to be the Burning Man's latest victim. The depiction of all three woman – Maeve, Louise and Rebecca – is skilfully done and their interlocking stories made the book fly by for me.<br/><br/>Although the book is more of a psychological suspense than anything else there are also elements of the police procedural too, especially the office politics of the work. Maeve is subject to relatively mild sexism and racism from her colleagues but she also has an intelligent and fair boss which provides a nice balance. Her personal life is not the picture of health unfortunately, as her wealthy boyfriend can't quite understand the demands of her job, and this thread also plays out credibly across the novel.<br/><br/>I did find the resolution to this novel fairly easy to spot but I did enjoy watching how Casey would get us to the end I expected. The plotting is certainly logical and did have some nicely unpredictable twists along the way and the way that readers are drawn into the lives of the characters makes this well worth reading. If you're looking for a book about the hunt for a serial killer you'll need to go elsewhere but if you're after a thoughtfully layered novel of suspense then you could do a lot worse than read The Burning.<br/><br/>my rating 3.5 stars
Also in the Maeve Kerrigan series | View all