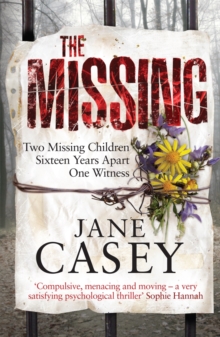 Description
Jenny Shepherd is twelve years old and missing... Her teacher, Sarah Finch, knows better than most that the chances of finding her alive are diminishing with every day she is gone.
As a little girl her older brother had gone out to play one day and never returned.
The strain of never knowing what has happened to Charlie had ripped Sarah's family apart.
Now in her early twenties, she is back living at home, trapped with a mother who drinks too much and keeps her brother's bedroom as a shrine to his memory.
Then, horrifically, it is Sarah who finds Jenny's body, beaten and abandoned in the woods near her home.
As she's drawn into the police investigation and the heart of a media storm, Sarah's presence arouses suspicion too.
But it not just the police who are watching her...
Information
Format: Paperback
Pages: 496 pages
Publisher: Ebury Publishing
Publication Date: 01/01/2010
Category: Crime & mystery
ISBN: 9780091935993
Free Home Delivery
on all orders
Pick up orders
from local bookshops
Reviews
Showing 1 - 3 of 3 reviews.
Review by nicx27
16/06/2015
Two missing children, 16 years apart and one person links them both. The person is the narrator of The Missing, teacher Sarah Finch. The book starts off in 1992 when Sarah's 12 year old brother, Charlie, goes missing. These chapters set in the past are thrown into the book in between the modern day story in which one of Sarah's pupils, Jenny Shepherd, goes missing.This is a fast-paced book, and one which I couldn't put down. Sarah finds herself in the thick of the investigation into Jenny's disappearance, partly because of what happened to her brother. As she is telling the story herself, the reader really gets a sense of how she is feeling, and her despair at dealing with a mother who has never got over the disappearance of her son, together with a spiralling chain of events that brings her into not only the focus of the police, but also somebody else who is keeping a close eye on her. What I liked about this book is that I never knew where it was going to go next..I loved the character of Andy Blake, one of the detectives dealing with the modern day case. He came across as very strong and quite dishy!I would recommend this book to anyone who enjoys crime fiction, not of the gory type but of the more psychological variety. I'm looking forward to seeing Jane Casey's future work.
Review by eleanor_eader
16/06/2015
A teacher whose brother disappeared when she was a child, finds the body of a missing local girl who happens to be one of her pupils, and is promptly embroiled in the case.I picked this up because it had a single line recommendation on the cover from Sophie Hannah, whose crime writing I enjoy very much… and because I haven't read much crime fiction this year, and felt like wallowing in an easy, familiar genre. For some reason, though, I wasn't expecting much more than a diverting rehash of an episode of The Bill, and was pleasantly surprised to find myself tugged along by the plot which did veer across the 'predictable' line once or twice, but then twisted back sharply as it dealt with something else… and there were a satisfying number of elements to this book that made it nice, thick crime novel with a strong first-person narrating voice that kept you firmly in the middle of the unspooling mystery and refused to let the reader become too complacent about what was going on.Recommended, if you're looking for a good crime fiction read; I would recommend Sophie Hannah's books first, her writing craft is a tad stronger, and her peripheral characters stand up a under scrutiny better than Jane Casey's, but I'll happily read more by Casey if <i>The Missing</i> is indicative of her overall standard.
Review by DeltaQueen50
16/06/2015
More of a psychological study than a murder mystery, The Missing by Jane Casey explores what happens to a family when a child goes missing, never to be found. This devastating event shaped the main character, Sarah Finch's life when her twelve year old brother left the backyard one day and never returned. Now, many years later, Sarah, a grown woman, still lives at home with her alcoholic mother.One day while out running, Sarah discovers a murdered child's body. This child happens to be one of her own pupils. The book explores in depth how Sarah copes with this tragedy and the resulting pressure and stress of being caught up in a murder investigation.A very readable book, The Missing almost pulls off what the author intended. There were a few things that I found hard to accept, in particular some questionable police procedures and the attraction that Sarah seemed to exude towards the opposite sex. Sarah is not a very likeable character, she is so insecure and passive that I felt like shaking her a few times, but considering the traumatic childhood and the lasting damage she sustained, she did ring true. There were no real likeable characters in the whole book, which I found difficult as I like to have an emotional connection with the characters I read about.The Missing is this author's first book and as I felt the good definitely outweighed the bad, I will be trying her next offering which is the first in a series about a female detective constable.