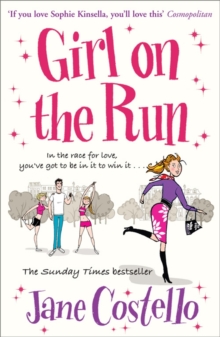 Girl on the Run
Paperback
Description
THE SUNDAY TIMES TOP TEN BESTSELLING AUTHOR He's a real catch ...if only she could catch him up. Abby Rogers has been on health kicks before - they involve eating one blueberry muffin for breakfast instead of two.
But since starting her own business, after watching one too many episodes of The Apprentice, the 28-year-old's waistline has taken even more of a back seat than her long-neglected love life.
When Abby is encouraged to join her sporty best friend's running club - by none other than its gorgeous new captain - she finds a mysterious compulsion to exercise.
Sadly, her first session doesn't go to plan. Between the obscenely unflattering pink leggings, and the fact that her lungs feel as though they've been set on fire, she vows never to return.
Then her colleague Heidi turns up at work and makes a devastating announcement, one that will change her life - and Abby's - forever. Full of warmth, friendship, fun and laughter, Girl on the Run is a novel to devour!
Information
Format: Paperback
Pages: 464 pages
Publisher: Simon & Schuster Ltd
Publication Date: 14/04/2011
ISBN: 9781847396266
Free Home Delivery
on all orders
Pick up orders
from local bookshops
Reviews
Showing 1 - 2 of 2 reviews.
Review by Yogiboo
16/06/2015
Ok so I really enjoyed the last three Jane Costello books I read but I struggled with this one. Don't get me wrong, there were so super hysterical parts but I found myself zoning out more than a couple of times and having to reread paragraphs more than once to understand what she was writing. Still hugely enjoyable but not one of my favourites. Also I'd just like to add just how massively predictable her books are, every time I start reading them I know straight away who she's going to end up with, which friend slept with who and what disaster is going to befall the character. This is the main reason I marked this book down.
Review by SaraRomanceLove
16/06/2015
I have mixed feeling about this book; the love story was nice and easy, expected, but cool.<br/>On the other hand the surrounding environment threw me off a bit:<br/><br/>The best friend is the most horrible person, and gets away with everything she does, didn't appreciate that. Especially I didn't find believable how she gets forgiven so quickly by everybody. <br/><br/>The so-called initial obsession for Dr. Dishy seems a bit far-fetched. I mean Abby obsess over a guy that she sees for months three times a week and never even kiss her, really?<br/><br/>The boyfriend Abby gets appears out of nowhere, one second she's single, the next she has a boyfriend after what one date, two maybe? There is no description of this relationship; it's sort of just put there.<br/><br/>And finally, I am sorry to say this, but when I read a chick-lit I am looking for an escape from reality, and a happy one. The decision of the author of making the whole novel pivoting around a sad, progressive, incurable disease was something beyond me. You want to raise awareness, I am with you, I am sure we all are… that everybody does what they can for the causes they believe in, but don't do it to people that are seeking a break with a book that should supposedly bring them joy and easiness of mind. I found it so depressing it upset me a lot. Not the feeling I was looking for. <br/>