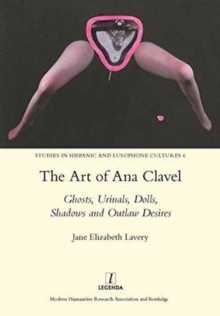 The Art of Ana Clavel : Ghosts, Urinals, Dolls, Shadows and Outlaw Desires
Hardback
Description
Ana Clavel is a remarkable contemporary Mexican writer whose literary and multimedia oeuvre is marked by its queerness.
The queer is evinced in the manner in which she disturbs conceptions of the normal not only by representing outlaw sexualities and dark desires but also by incorporating into her fictive and multimedia worlds that which is at odds with normalcy as evinced in the presence of the fantastical, the shadow, ghosts, cyborgs, golems and even urinals.
Clavels literary trajectory follows a queer path in the sense that she has moved from singular modes of creative expression in the form of literary writing, a traditional print medium, towards other non-literary forms.
Some of Clavels works have formed the basis of wider multimedia projects involving collaboration with various artists, photographers, performers and IT experts.
Her works embrace an array of hybrid forms including the audiovisual, internet-enabled technology, art installation, (video) performance and photography. By foregrounding the queer heterogeneous narrative themes, techniques and multimedia dimension of Clavels oeuvre, the aim of this monograph is to attest to her particular contribution to Hispanic letters, which arguably is as significant as that of more established Spanish American boom femenino women writers.
Free Home Delivery
on all orders
Pick up orders
from local bookshops