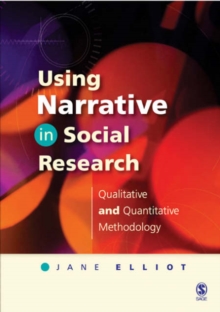 Using Narrative in Social Research : Qualitative and Quantitative Approaches
Paperback / softback
Description
'Jane Elliott's examination of the use of "narrative" within the broad context of social science inquiry is a must-read for both qualitative and quantitative researchers, novice and expert alike' - Journal of Advanced Nursing`This important book does an impressive job of synthesising a complex literature and bringing together both qualitative and quantitative methods of narrative analysis. It will become a milestone in the development of narrative methods.
Although ground-breaking in many ways, it is very clearly written and accessible to readers from a wide variety of backgrounds and methodological experience' - Nigel Gilbert, University of Surrey`An elegantly written, scholarly and accessible text.
Jane Elliott shows a sophisticated appreciation of contemporary methodological developments, and makes a persuasive case for the use of narrative approaches in both qualitative and quantitative research.
The book challenges and advances debates about combining methods, and shows how stories can work within and across conventional research boundaries.
It is a truly original contribution to the literature' - Amanda Coffey, Cardiff School of Social Sciences `An outstanding book.
Jane Elliott breaks new ground by demonstrating to new generations of social scientists how the power of narrative can fruitfully be harnessed in social research.
This is a "must read" book' - Professor Mike Savage, University of ManchesterThis is a lucid and accessible introduction to narrative methods in social research.
It is also an important book about the nature, role and theoretical basis of research methodology in general.
Jane Elliott instructs the reader on the basic methods and methodological assumptions that form the basis of narrative methods.
She does so in a way that is practical and accessible and in a way that will make the book a favourite with students and experienced researchers alike. Elliott argues that both qualitative and quantitative methods are characterised by a concern with narrative, and that our research data can best be analyzed if it is seen in narrative terms.
In concrete, step-by-step terms she details for the reader how to go about collecting data and how to subject that data to narrative analysis, while at the same time placing this process in its wider theoretical context. She works across the traditional quantitative/qualitative divide to set out the ways in which narrative researchers can uncover such issues as social change, causality and social identity.
She also shows how the techniques and skills used by qualitative researchers can be deployed when doing quantitative research and, similarly, how qualitative researchers can sometimes profit from using quantitative skills and techniques. "This book provides both a fascinating and a challenging read.
What sets this text apart from other books on research methodology and methods is that it does not focus exclusively on either quantitative or qualitative research approaches, but rather attempts to bridge the divide.
The book should be compulsory reading not only for those aspiring to undertake narrative research and those students undertaking higher degree research courses, but also for those more experienced researches wishing to explore contemporary issues in research methods and methodology.
As a recent recruit to a lecturer-practitioner post with little recnt experience in the subject area covered by this book, i found it met my needs very well.
I would certainly recomment this book for purchase." Dr Andrew Pettipher, University of Nottingham, UK.
Information
Format: Paperback / softback
Pages: 232 pages
Publisher: SAGE Publications Inc
Publication Date: 17/05/2005
Category: Social research & statistics
ISBN: 9781412900416
Other Formats
EPUB from £30.59
Hardback from £97.95
PDF from £30.59