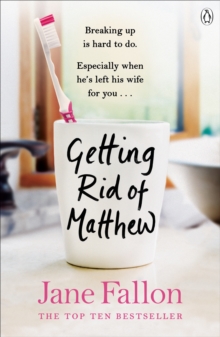 Getting Rid of Matthew
Paperback
Description
Breaking up is hard to do. Especially when he's left his wife for you . . .What to do if Matthew, your secret lover of the past four years, finally decides to leave his wife Sophie and their two daughters and move into your flat, just when you're thinking that you might not want him anymore . . .PLAN A: Stop shaving your armpits. And your bikini line. Tell him you have a moustache that you wax every six weeks.
Stop having sex with him. Pick holes in the way he dresses. Don't brush your teeth. Or your hair. Or pluck out the stray hag-whisker that grows out of your chin.
Buy incontinence pads and leave them lying around.PLAN B: Accidentally on purpose bump into his wife Sophie.
Give yourself a fake name and identity. Befriend Sophie. Actually begin to really like Sophie. Snog Matthew's son (who's the same age as you by the way.
You're not a paedophile). Buy a cat and give it a fake name and identity. Befriend Matthew's children. Unsuccessfully. Watch your whole plan go absolutely horribly wrong.Getting Rid of Matthew is the sharp and hilariously funny novel from bestselling author Jane Fallon.
It was also a Richard and Judy pick. Praise for Jane Fallon:'Intelligent, edgy and witty' Glamour'A brilliant and original tale' Sun'Chick lit with an edge' Guardian
Information
Format: Paperback
Pages: 416 pages, None
Publisher: Penguin Books Ltd
Publication Date: 04/01/2007
ISBN: 9780141025292
Free Home Delivery
on all orders
Pick up orders
from local bookshops
Reviews
Showing 1 - 3 of 3 reviews.
Review by MissMac
16/06/2015
I liked the premise of this book: what would happen if the married man left his wife and moved in with his mistress. With it being told from the mistress's point of view, it looked as if it was going to be a slightly different story from your run-of-the-mill chick lit... but it wasn't.I felt the characters were rather vapid and thin. Helen wasn't particularly likeable, but came across as an inept woman who had little control over what was happening to her. The love link with Sonny was ridiculous - if Fallon wanted to do something with that, she could have made so much more of it. As it was, it was incredible and fell flat.However, the book was very readable, and some sympathy was built up for Matthew's wife. Not a book I'd read again. It was mooched on Bookmooch and has hopefully found a more appreciative reader in the States!
Review by SmithSJ01
16/06/2015
Toyed with a 4/5 for this but nothing moved it up to "I like it" for me. It's genuinely "okay". Helen is a very selfish woman, almost 40, who has been seeing a married man (Matthew) for the last 4 years. After lots of nagging he's finally left Sophie (after 14 years), who he only got together with because he cheated on his fist wife. Low and behold the selfish woman doesn't want him more. That's the plot, that's it. I thought there may be more, but there genuinely isn't. Helen is not only selfish but now becomes scary stalking lady when she actually befriends Sophie under a different name but it all becomes complicated when she actually kisses someone but she didn't know it was someone she shouldn't. It all comes out in the wash, as it does, and it then actually gets quite good - but that's with only about 70 pages to go. If you're going on holiday (which is what these summer reads are surely for) then this will last you a flight or a morning at the beach.
Review by elliepotten
16/06/2015
Surprisingly, this was a summer bestseller, in the book charts for months straight. It is a half-decent way to while away a couple of days, but nothing more – dull, forgettable and formulaic. Essentially it concerns one woman in a relationship with a married man, who decides she doesn't love him just as he leaves his wife to move in with her. So begins a story of deceit and bitterness – it's 'How to Lose a Guy in Ten Days' without the charm or wit.