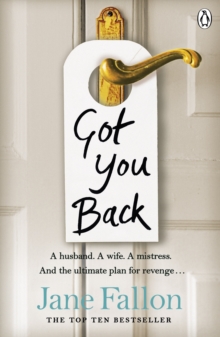 Description
The brilliantly witty novel from the Top Ten Sunday Times bestselling author of Getting Rid of Matthew.A husband.
A wife. A mistress. And the ultimate plan for revenge . . .The husbandJames never intended to lead a double life - with a wife in London and a mistress in the country, it's exhausting.
But that's all about to change . . .The wifeStephanie isn't really snooping when she finds a text message from a strange woman on her husband's mobile.
But now she's found it, how can she ignore it? It's time to track the woman down and find out what's going on . . . The mistressKatie has no reason to believe her boyfriend, James, is cheating until someone claiming to be his wife gets in touch.
Now she's been cast in the role of mistress. Not one she's happy with . . . Once Stephanie and Katie know about each other, they must decide what to do.
They could both just throw him out or they could join forces to make his life hell first . . .But revenge isn't always sweet. And what happens when one woman thinks enough is enough but the other doesn't know when to stop?Praise for Jane Fallon:'Intelligent, edgy and witty' Glamour'A brilliant and original tale' Sun'Chick lit with an edge' Guardian
Information
Format: Paperback
Pages: 416 pages
Publisher: Penguin Books Ltd
Publication Date: 01/08/2008
ISBN: 9780141034409
Free Home Delivery
on all orders
Pick up orders
from local bookshops
Reviews
Showing 1 - 4 of 4 reviews.
Review by Twink
16/06/2015
I first discovered Jane Fallon when I read her best selling debut novel Getting Rid of Matthew and was very happy to discover her second!Stephanie and James are comfortably married with a seven year son, Finn. James is a vet and divides his time and week between two practices, one in the city and one in a country village. Although the marriage is a bit 'settled', Stephanie has no reason to think there's trouble until she inadvertently see a text on her husband's phone - "I'm really missing you. K xxx". She's not sure if it means what she thinks it does. He can't be having an affair can he? Ummm, yes he is. Instead of confronting James, she decides to track down the other woman - Katie. Katie is just as stunned as Stephanie - she thought he was divorced. They decide that James should not get off lightly and 'Operation Get Revenge on the Two Timing Shit' is hatched. But how far should you take revenge?I hesitate to slap a chick lit label on this book. as it is much more than that. Fallon has written a smart, witty novel that draws you in (and won't let you put down - I devoured it in a day!). Her characters are realistic, likable and believable. They had depth and evolved. Katie is an innocent at first and the change in her character is convincing. It was satisfying to watch Stephanie's self confidence and search for personal happiness evolve after the bottom has fallen out. But I think Fallon particularly excelled with James, the husband. He is egotistical, pompous and firmly believes that he can have his cake and eat it too. The change in this character as the revenge scheme plays out is not what you would expect. I particularly enjoyed the ending.Fallon is a British author and the partner of Ricky Gervais. Bet that's a fun household!
Review by lizpatanders
16/06/2015
I have to say that I wouldn't particularly call this book substantial. It's actually quite a light read, with a plot that moves along nicely. Other than that, I didn't really enjoy this book. I didn't care about the characters or think the writing was that good.
Review by RuthieD
16/06/2015
Went through a few gear changes with this book. About a third in I couldn't put it down. Toward the end with about a chapter to go I found the character changes so unbelievable I was thinking of giving up. Unsatisfactory ending? And I wasn't sad...even very relieved to close the book on all of them...except Katie ...who well to say more would spoil it for follow on readers. It's taken me quite a long time to read for the volume. But I'm glad to of met ?Mrs ? Ricky Gervais and would read her again..( in fact already mooched!) :)
Review by Chicalicious
27/08/2015
James spends half his week up in Lincoln, in the country, with his mistress, Katie, and the other half in London with his wife, Stephanie, and son, Finn. He thinks he lives a great life and relishes in the fact that neither woman knows about the other. He lives the ultimate double life. That all changes one day when Stephanie finds a mysterious text on James phone from "K". When both women find out about each other they decide the best course of action is to get even.The book wasn't what I was expecting. I was expecting it to be funny instead it was just mildly amusing with poor characterisation and story. The plot sounded interesting - husband leads double life and both his wife and mistress find out and decide to extract revenge. It wasn't executed very well, though. I think more emphasis should have been put on his double life instead of drawing out the fact he didn't live full time with his family in London.The more I delved into this book the more it annoyed and disappointed me. The characters were either boring or verging on psychotic. I couldn't connect with any of them. James was spineless and always willing to impress but he lacked personality. Katie was a push over until she became so wrapped up in the revenge that she became twisted, almost psychotic. Stephanie was a bit strange she wanted to punish her husband but constantly felt bad about it. Her love interest, Michael, couldn't have been more dull even if he tried.The revenge ranged from gentle like buying the same clothes and Katie changing her appearance to resemble Stephanie to more sinister plots like being reported for tax evasion and planning permission on the extension built on to his surgery. Even when James was close to losing everything in his life, Katie just thought of more ways to punish him further. It would have been nice to have seen the revenge plan to foil out but it didn't happen. The night before it was all supposed to happen, his 40th birthday that he was having twice, he had a change of heart and confessed all to Stephanie.The book was really just light and a bit of fluff. The ending, thankfully, wasn't all gushy and happily ever after but then again it didn't feel finished - it just stopped.