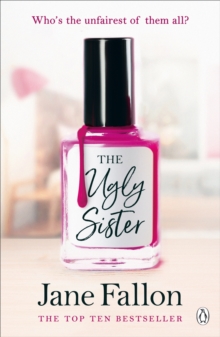 The Ugly Sister
Paperback
Description
Jane Fallon, bestselling author of Getting Rid of Matthew, returns with The Ugly Sister.When it comes to genes life's a lottery . . .As Abi would the first to know. She has spent her life in the shadow of her stunningly beautiful, glamorous older sister Cleo.Headhunted as model when she was sixteen, Cleo has been all but lost to Abi for the last twenty years, with only a fleeting visit or brief email to connect them.
So when Abi is invited to spend the summer in Cleo's large London home with her sister's perfect family, she can't bring herself to say no.
Despite serious misgivings. Maybe Cleo is finally as keen as Abi to regain the closeness they shared in their youth?But Abi is in for a shock.
Soon she is left caring for her two young, bored and very spoilt nieces and handsome, unhappy brother-in-law - while Cleo plainly has other things on her mind.
As Abi moves into her sister's life, a cuckoo in the nest, she wrestles with uncomfortable feelings.Could having beauty, wealth and fame lead to more unhappiness than not having them?
Who in the family really is the ugly sister?The bestselling author of R&J selection Getting Rid of Matthew returns with a tale of two sistersPraise for Jane Fallon:'Intelligent, edgy and witty' Glamour'Smart, sassy and dark' HeatJane Fallon is the multi-award-winning television producer behind shows such as This Life, Teachers and 20 Things to Do before You're 30.
Her previous novels are Getting Rid of Matthew, Foursome and Got You Back.
Information
Format: Paperback
Pages: 464 pages
Publisher: Penguin Books Ltd
Publication Date: 01/09/2011
ISBN: 9780141047256
Free Home Delivery
on all orders
Pick up orders
from local bookshops
Reviews
Showing 1 - 2 of 2 reviews.
Review by nicx27
16/06/2015
After seeing some of the other reviews of this book I wondered what I would think of it, but I really enjoyed it. This is the story of Abi, a woman with a daughter off to travel the world in her gap year. Abi has always lived in the shadow of her beautiful, older sister, Cleo, a one time supermodel who is now trying to revive her career. Although she hasn't seen much of Cleo for many years, Abi is really excited and flattered to be invited to live with her and her family through the summer whilst she is temporarily homeless.I liked the character of Abi. She is such a nice person, almost transforming her nieces, one of whom was starting to become as shallow as her mother. She's a bit of a sap, but by the end she starts to realise her own worth and that she doesn't have to be 'The Ugly Sister'.I found this book to be a very easy read. It flowed well and kept my interest all the way through. As I was getting very close to the end I couldn't imagine how the story could be tied up in the short amount that was left, but it did have a satisfactory ending, for me at least. I know a lot of reviewers thought the ending was too abrupt, but you just need to think about what the point of the story was, which was that Abi needed to come out from behind Cleo's shadow and start to live her life. The ending gave a glimpse of the future that Abi could have.A very enjoyable book that I looked forward to picking up each time, and what more can you want out of a book?
Review by jolzyn
16/06/2015
like Jane Fallon's writing and this is one of the book that i think have an interesting storyline. I have been looking forward to read this book and although the plot is rather interesting but unlike previous book, Jane failed to develop the story further and i was rather dissapointed with the ending of the book.Abigail or 'Abi' to all, is a rather down to earth character. At the beginning of the story, her sister invited her to stay with her in her mansion and she who thought that is an opportunity for her to renew her relationshiop with her sister, agreed, However, unbeknownst to her, the reason behind the invitation was that Chloe need someone to take of her childrens hence her invitation to Abi. Abi, who is a softhearted women found herself to be absorbed into her sister's marriage, and life. And worse of all, her brother in law, Jon confessed to her that he has fallen in love with her. Although Abi tempted to reciprocate his love, she know she can't and her only way out was to confessed that she found her Mr Right already. I was rather saddened with the plot at this point as i really hope that Abi will accept Jon but it was not the case.Chloe on the other hand, is a selfish b**ch. I hated her even before i reach quarter of the book and even more as the story goes. She is self obsessed with herself and never really put thoughts of others even her husband and childrens. She is demanding and manipulative. It is also the reason for her failure to relaunched herself in the model arena. I was quite pleased by it. I really dont like reading how she manipulate Abi into succumbing to her demand.Overall, i was surprised to read the ending of the book because it ended quite abruptly. In fact, i expect the story to go on especially when Jon already separated from Chloe, I was rather dissappointed with the ending and i feel it is rather wasted because of its interesting story.