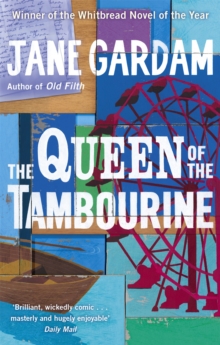 The Queen of the Tambourine
Paperback
Description
Eliza Peabody is one of those dangerously blameless women who believe they have God in their pocket.
She is a modern-day Florence Nightingale, always up at the Hospice or the Wives' club; she is too enthusiastic; she talks too much.
Her concern for the welfare of her wealthy south London neighbours even extends to ingenuous, well-meaning notes of unsolicited advice under the door.It is just such a one-sided correspondence that heralds Eliza's undoing.
Did her letter have something to do with Joan's abrupt disappearance from number forty-one?
What to make of the long absences of her husband and Joan's, and of the two men's new, inseparable friendship? And why will no one else on Rathbone Road speak of Joan?
As Eliza's own life seems to disintegrate, she finds that, despite the pity and embarrassment with which her neighbours greet her, she is at last being drawn into their lives - although not in the way she had once fantasised about.
This is a sharp, poignant and wickedly funny tale of love, heartache and disillusionment.
Information
Format: Paperback
Pages: 240 pages
Publisher: Little, Brown Book Group
Publication Date: 11/06/1992
ISBN: 9780349102269
Free Home Delivery
on all orders
Pick up orders
from local bookshops
Reviews
Showing 1 - 2 of 2 reviews.
Review by sunfi
16/06/2015
Tried to read this one but I couldn't get into it. I didn't find Eliza to be a very sympathetic character and I found it difficult to relate to her. The story is told as a series of letters that she rights to a neighbor, through the first seventy pages there wasn't any other dialogue other than her telling about the happenings around the neighborhood.
Review by cammykitty
16/06/2015
The reviewer before me called this a "modern twist on The Yellow Wallpaper." I see where that came from, but that doesn't describe the book I read. Yes, our dear Eliza has hallucinations, but she isn't trapped anymore than she chooses to be. Perhaps she's mad, but perhaps as one of her neighbors suggest, she has the most annoying type of madness, deliberately chosen madness. Although I would never want to be Eliza's neighbor, friend, and definitely not her charge, I thoroughly enjoyed seeing the world criticized through her "naive" eyes. She's only as naive as one of Shakespeare's fools. Eliza has traveled the world as a Foreign Service Officer's wife, she's seen political upheaval and poverty, she's done her round of ladies clubs and ladies charities, yet she's living in an upscale suburb of England where the world's problems, in theory, don't exist. Eliza knows better. Her madness tears a little hole in her sheltered road that she lives on, her community called "The Road," so gentrified that it deserves capital letters. As for the people around her? Maybe they need a bit of her madness.