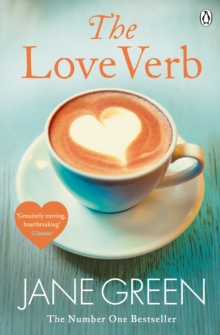 Description
Number one best-seller Jane Green - author of The Beach House and Spellbound - explores changes in relationships when a family member is struck with illness in her heartbreaking novel The Love Verb.Love means being there - through everything.Everyone in Callie's family is busy; her sister is a free-spirited Manhattan chef, her best friend Lila is coping with the vitriol of her new man's ex-wife, and her parents, Walter and Honor, have rich though separate lives.
But when Callie discovers the breast cancer she thought she'd beaten has returned, they all find that their lives shift to focus on caring for Callie. 'A beautifully written and intensely sad lesson in what it really means to love someone you know you're going to lose' Daily Telegraph 'Stylish, wickedly insightful . . . family, friends and love is truly, heartwrenchingly tested' Mirror'A moving account of a family faced with a heartbreaking situation.
I defy anyone to get through to the end without crying' Sunday ExpressJane Green's internationally best-selling novels, including The Other Woman, Jemima J., Babyville, The Patchwork Marriage (published as Another Piece of My Heart in the USA) Girl Friday (Dune Road), Life Swap (Swapping Lives), Second Chance, Straight Talking, Mr. Maybe, and Bookends, are moving and true to life. The Love Verb is published as Promises to Keep in the USA.
Information
Format: Paperback
Pages: 432 pages
Publisher: Penguin Books Ltd
Publication Date: 01/03/2011
ISBN: 9780141038643
Free Home Delivery
on all orders
Pick up orders
from local bookshops
Reviews
Showing 1 - 1 of 1 reviews.
Review by readingwithtea
16/06/2015
"It is about women remembering who they were before they had children."Callie Perry has it all: a handsome, successful, although not flawless husband, wonderful children, a slightly wayward little sister, a successful photography business and generally a life full of love and wonder and laughter. So when her breast cancer returns as neoplastic meningitis (brain-related cancer), those she loves are shattered, but rally around her.Normally I wouldn't pick this sort of book up, being a bit of a romance/chick lit snob, but I'd seen it positively reviewed around the place and it was just the ticket for a brain-free read. As you know, I didn't fare all that well with that bastion of chick lit, The Horse Whisperer. This, as you can see from the 9/10 rating, was a whole different receptacle of aqueous-dwelling vertebrates.I loved pretty much all of the characters. Callie was a bit perfect, Stella was a bit bratty younger sister-ish, Mason clearly had an agenda, but I cared about them, I wanted their lives to keep being fluffy and pink. I loved the crazy earth mother Honor, and was pleased that Green chose to include enough back story that we could see where she came from.And Green does not hold back with the heartbreak when the plot gets going. In a sense, there isn't much plot - lovely woman gets sick: effect on family. But Callie's illness is chronicled in enough detail to be very credible (it did not surprise me that Callie was based on a real life woman known to the author), but not so much that it's gory. Think Before I Die.Plus it gets several extra points out of ten for including a recipe at the end of every chapter: Chocolate Chestnut Truffle Cake, Pumpkin Gingerbread Trifle, Ginger Almond Chicken. Seriously, I'm going to have to hold onto this book for a while just so I can try out the recipes!