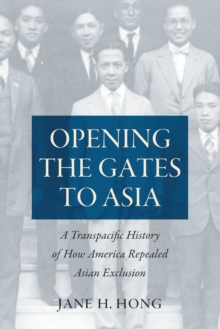 Opening the Gates to Asia : A Transpacific History of How America Repealed Asian Exclusion
Paperback / softback
Description
U.S. immigration and naturalization laws tracked shifting power dynamics in the Pacific as the United States emerged as a major world power during World War II and the Cold War.
Much is known about America's long history of Asian immigrant exclusion laws, but how did these laws end?
Why did the United States begin opening its borders to Asians after barring them for decades?
Jane H. Hong argues that the transpacific movement to repeal Asian exclusion was part of U.S. empire-building efforts in the region and the rise of a new informal U.S. empire in Asia. Drawing on archives in the United States, India, and the Philippines, she traces the relationship between exclusion and empire.
The dismantling of formal empire across the Asia-Pacific region underpinned postwar Asian immigration to the Unites States, even as advocates on both sides of the Pacific worked to redraw the ethnic and racial boundaries of the American nation.
Positioning repeal at the intersection between U.S. civil rights struggles and international developments in Asia, Hong raises thorny questions about the meanings of nation, diaspora, and citizenship on the global stage.
Information
Format: Paperback / softback
Pages: 280 pages, 9 halftones, 4 tables
Publisher: The University of North Carolina Press
Publication Date: 30/11/2019
Category: Asian history
ISBN: 9781469653365
Other Formats
Hardback from £105.00
EPUB from £113.40
Also by Jane H. Hong