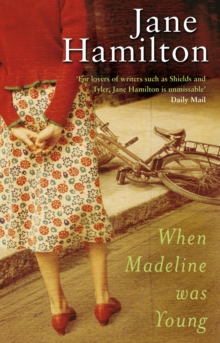 When Madeline Was Young
Paperback
Description
Women on the block called Mac's sister Madeline a beauty, a 'real Princess Grace'.
But in spite of her height and mature body, to Mac, his sister never looked any different to other children.
Until one summer evening in 1960, when his cousin Buddy taunted him with the odd truth of their family: Madeline was not really Mac's sister, but his father's first wife.
A terrible accident had left her brain-damaged, with the intellect of a seven-year-old.
When his father remarried, Madeline became part of his new family, devotedly cared for by his second wife like one of their own children.
In 2003, Mac, now a middle-aged doctor, attends the funeral of Buddy's son, killed in Iraq.
There, the divisions that drove two branches of their family apart are brought sharply into focus: on one side, belligerently liberal doves, on the other, defiantly patriotic hawks.
Also revealed is the impact of Madeline's tragedy on the family, how it has shaped and altered forever the boundaries of love. In this moving story that follows one American family over several decades of wars fought on foreign soil, Jane Hamilton, with her usual humour and keen observation of family relationships, deftly explores notions of innocence and experience, loyalty and betrayal, sacrifice and devotion.
Information
Format: Paperback
Pages: 352 pages
Publisher: Transworld Publishers Ltd
Publication Date: 01/02/2008
ISBN: 9780552773676
Free Home Delivery
on all orders
Pick up orders
from local bookshops
Reviews
Showing 1 - 3 of 3 reviews.
I wanted to like this book, but something about it didn't work for me. The story wasn't really about Madeline.
Review by groovygal506
16/06/2015
This book was very narrative, as is typical for Jane Hamilton. For me, it was difficult to stick with it. Written from what I found to be a strange perspective it really wasn't what I was expecting. But definitely a good book club book because there was a lot to discuss.
Review by qofd
16/06/2015
I was slightly mortified by the topic of this book but it becomes less of a problem as the story becomes less about Madeline and more about the entire family. The book rambles in a number of directions having no clear purpose but despite that is an enjoyable reminiscence of times past. It leaves you thinking about your own family for better or worse.