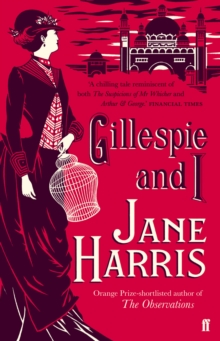 Gillespie and I
Paperback
Description
As she sits in her Bloomsbury home, with her two birds for company, elderly Harriet Baxter sets out to relate the story of her acquaintance, nearly four decades previously, with Ned Gillespie, a talented artist who never achieved the fame she maintains he deserved.
Back in 1888, the young, art-loving Harriet arrives in Glasgow at the time of the International Exhibition.
After a chance encounter she befriends the Gillespie family and soon becomes a fixture in all of their lives.
But when tragedy strikes - leading to a notorious criminal trial - the promise and certainties of this world all too rapidly disintegrate into mystery and deception...
Information
Format: Paperback
Pages: 624 pages
Publisher: Faber & Faber
Publication Date: 01/01/2012
ISBN: 9780571238309
Other Formats
Hardback from £11.35
Paperback from £10.25
EPUB from £6.39
Free Home Delivery
on all orders
Pick up orders
from local bookshops
Reviews
Showing 1 - 4 of 4 reviews.
Review by edwinbcn
10/11/2015
Bought on the strength of the publisher's name, I was sorely disappointed by this novel. This is not literary fiction. It is very poorly written pulp fiction. Extremely wordy and full of clichés.
Review by SandDune
16/06/2015
This has had so many good reviews on LT. I should say to start that I didn't find it so mind-blowingly good as some reviewers but a very good read nevertheless. I read it quite quickly on the beach and I do feel that it would have been better read more slowly over a longer period. Certainly it warrants re-reading and I am quite tempted to do this in the not too distant future, to see what (if any) clues I missed to the development of the story.In 1933 Miss Harriet Baxter, a spinster aged eighty, looks back on her relationship with the Glaswegian painter Ned Gillespie. Told in a series of flashbacks to the 1880's, the main narrative is interspersed with the story of Harriet's issues with her companion in the 1930's (which may or may not be connected with the events of 50 years previously). Travelling to Scotland to see the Glasgow International Exhibition, Harriet becomes acquainted with Ned Gillespie's mother (who she saves from choking to death) and his wife. Invited to tea, she becomes intimate with his family and makes herself indispensable in any number of ways. But things are clearly not destined to run smoothly, as Harriet recollects in the first few pages what with all that silly white-slavery business and the trial, and what starts out as a seemingly light-hearted book gets progressively darker and darker in tone. Without giving away the ending, I can say that at first the events described did seem a little far-fetched, but the more I think about them, the more plausible they seem. I think that this is likely to be a book that stays in my memory for a long time,
Review by Mercury57
16/06/2015
I picked this novel up in an airport bookshop hoping it would keep me so engrossed I wouldn't notice the length of the flight. It seemed it would tick all the boxes – historical setting, a sense of mystery and it came from the pen of an author whose name I kept hearing though I had never read nothing by Jane Harris myself.The story reminded me of Willkie Collins' sensation and mystery stories and is told at a similar fast pace. It's narrated by Harriet Baxter, an elderly spinster who recalls a chance encounter 45 years previously with Ned Gillespie – a talented artist who we are soon informed, died before his fame was fully recognised. Harriet meets him again during a visit to the International Exhibition in Glasgow in 1888 – and quickly becomes close friends with the Gillespie family. Dark shadows hover over their somewhat Bohemian home as one of the daughters begins to behave in an alarmingly malicious way towards her sibling and other members of the household. And then Harriet finds herself propelled into a family tragedy and a notorious court case.The period atmosphere was convincing. Harriet's recollections of the past come with lots of detail about houses, dresses, domestic routines as well as the atmosphere of the exhibition ground. Unlike many other novels with historical settings, Harris' manages to avoid dialogue that feels flat and clunky with anachronisms.The key to this novel however lies not in what we are told but more in what we are not told. First person narrators in novels are frequently unreliable witnesses or interpreters. Harriet Baxter is a master of deception. She portrays herself as a generous-hearted person yet is prone to make waspish comments about the other women in the Gillespie household. She believes herself to be uniquely positioned to tell the truth about the unrecognised genius of Ned Gillespie and set the record straight about the events in which she was enmeshed as a young woman. But her approach is somewhat elliptical. She makes frequent dark allusions to tragedies yet to be revealed. "If only we had known then what the future held in store," she says early on. Harriet Baxter is such a master of hints and suggestions however that the only way the reader does in fact get to know what really occurred is by following the breadcrumb trail of those clues and by reading between the lines. By the end, you almost feel that you have to read it again for everything to fall into place.If I had a gripe with the novel it lay in the ending. It didn't so much end as just seem to peter out as if it had run out of steam. I didn't feel cheated because the novel had done exactly what I needed it to do – keep be engaged so I didn't notice the cramped and confined conditions of my journey. But I did expect it to come to some form of a resolution.Now, with the benefit of a few months gap, I can see that instead of this being a weakness of the novel, it was in fact one of its strengths. Harris, like her narrator, is an arch manipulator, leading me through the labyrinth of her novel and making me believe that all would be revealed. But like Harriet Baxter, she leaves me to work out the truth.
Review by kingarooski
16/06/2015
I loved this book. Jane Harris takes us on a journey back to the Glasgow Exhibition in the late 19th century, where we meet Miss Harriet Baxter and the Gillespie family. The pages kept on flying by and I found myself fascinated by the story. Harriet cleaves herself to the Gillespies and has an especially soft spot for the husband, Ned Gillespie, who is also a painter. Through a horrible event, which destroys the friendship and probably the Gillespie family, I began to wonder if things were as they first seemed. I kept on backtracking and re-reading passages to see if my memory was correct. It was one of those books that I could have read all day long, if life hadn't intervened. <br/>